2023 Winners!
"Entrepreneurship and applied research are essential for students to develop the skills and mindset needed to succeed in the modern world. By applying their education, embracing ambiguity, taking risks, and seeking inspiration from their own experiences, students can create new knowledge and ideas that solve real-world problems," says Dr. Kim Dotto, Dean Applied Research and Centre for Applied Research and Innovation. "We are incredibly proud of the winners of the Student Innovation Challenge. Their innovative projects showcase the talent and creativity of BCIT students, and we know they will continue to make a positive impact."
Applied Research
First place ($5000) was awarded to Laurel Kinahan and Jacob Doyle, School of Energy students  for "IHearU"
Second place ($1500) was awarded to Kevin Rosenthal, Janet Ti, and Lulu Wang, School of Health Sciences for their project "The Honey Pusher"
Third place ($500) was awarded to Frances Skulj, Kristel Fajalongo, and Maria Narro, School of Energy for their project "Separation and Quantification of Organic Fluorine to Determine Potential PFAS Contamination in Sappho Cosmetics."
Sustainability
2022
Fiercely competitive projects win big!
The 2022 Student Innovation Challenge was fiercely competitive, with 61 students from five schools, 11 different programs, 14 industry partners, and 11 faculty mentors competing for prizes. "Every year, I was amazed at the quality of innovative projects the students submit," said Dr. Kim Dotto, Dean, Applied Research. "The Student Innovation Challenge provides the incentive, but the innovation comes from connecting students' bright ideas with faculty and industry to help make it a reality."
First Place ($3,250)*
*This is the first year we had a tie for first place, (down to the decimal point), combining first and second prizes, two first-place winners were announced.

The first team for 1st prize in Applied Research Category was awarded to Denise Chew, Aeden McClain, Brittany Lo, Aidan Thomlinson, Victor Ly, Bhupinder Thind, Jessica Hong, Kyle Wu, Spencer Loren, Brian Card, Edgar Coime, Jordan Godau, Katherine Marie Olaguer, April Tsang, Giwoun Bae and Nicholas Johnston, School Of Computing and Academic Studies for "EMA YVR Water Monitoring" – using IoT to monitor water quality at YVR, 24/7, in real-time.
The second team for 1st prize for Applied Research went to Kieran Bako, Lucas Hall, Kristian Neilsen and Matthew Peeters from the School of Energy for "Searchlight Scanner" – a GoPro camera and advanced AI-based image processing algorithms scan for the lost hikers, in real-time.
First Place ($5000)
Entrepreneurship Category: Kariffe Phillips, Hussan Sarwar and Harsimar Makkar from the School of Computing and Academic Studies for "Campus-Wide Computer Repair" –helping to reduce the cost of computer repairs and servicing for students, faculty and staff.
Sustainability Category: Aleks Zawadzki, Eric Cheng, David Tang and Mo Amirian from the School of Energy for "Undersea Laboratory" – a novel device built to investigate water conditions and marine life, with minimal environmental impact.
Second Place ($1,500)
Entrepreneurship category: Sara Wasim, Adam Siyala, Linda Nguyen, Jamie Samuel, and Matteo Miceli from the School of Computing and Academic Studies for "Minerva" – a one-of-a-kind text editor for developers that makes writing markdown easy.
Sustainability category:  Nicholas Tsang, Adam van der Goes, Joseph Yu,  and Douglas Zheng, from the School of Energy for "Energy Balance Measurement" – to provide BCIT the tools for implementing energy-saving initiatives in Air Handing Units across campus.
Third Place ($500)
Applied Research category:  Jason Zhang, Joby Matwick, Gary Huang, Yao Li from the School of Energy for "Data Sock" – a product that can be used by clinicians to help diagnose and treat diabetic foot ulcers.
Entrepreneurship category:  Matt Hardwick and Steven Palfrey from the School of Business and Media for "Chickadee Invest" – a web app for buying, trading, and selling for fractional shares of commercial real estate.
The Sustainability category: Anna Okorokov from the School of Business and Media for "Burgess 21", a fashion line that utilizes sustainably made fabrics (from cactus) with existing clothing to create new products.
2021
Creative new ideas!
After taking a break in 2020 due to the sudden challenge of COVID and remote teaching and learning, the Student Innovation Challenge was back in 2021 with a strong set of submissions from across BCIT. We received 16 submissions from 14 programs and five BCIT Schools. The winners:
Entrepreneurship
Austin Molby from the School of Construction and the Environment came first with Tea Gems.
Aman Duisek and Mike Chen from School of Energy and Rakhymzhan Duisek from the School of Business + Media placed second for Tatti Food.
Mustaffa Hamad  from the School of Construction and the Environment was third with Green Space Minded.
Applied Research
Aileen Maynard, John Matson, and Jonathan Oliveros from the School of Energy won with their Real‐Time Orca Detection System project.
Harvy Takhar from the School of Construction and the Environment came second with Connected Blue‐Green Roofs.
Dmitriy Kalinov, Billal Rahimi, Owen Ternoway, and Max Horie from the School of Energy were third with Gencephalon: Brain Computer Interface for the Physically Impaired.
Honourable mention went to Kelsey Wong from the School of Construction and the Environment for Enhancing Your Dining Experience with the Click of a Button.
Sustainability Prize
New for 2021, the Sustainability Prize was awarded to Harvy Takhar from the School of Construction and the Environment for his applied research innovation Connected Blue‐Green Roofs. The award was presented by donor Donald Yen.
2019
Exciting and diverse student ideas
2019's Challenge had the most exciting and diverse student submissions with representation from all six BCIT Schools and 15 program areas. The Applied Research Liaison Office received 26 submissions, all of which included business plans that were carefully reviewed by a judging panel from various areas of BCIT. The winners:
Entrepreneurship
Logan Van De Poll, Quinn Newell, Joshua Ceraldi, Nicolas Griffiths, Dillion McGee, and Claire McCallum from the School of Business took home the first prize with their innovative BrewBar submission.
Mike Dahlstedt from the School of Transportation placed second for DRIVE Hockey
Max Jones and Chelsea Reed from the School of Business finished third for Jones Baby and Company.
Applied Research
 First prize was awarded to Joshua Lang, Neil De Hoog, and Brandon Pham from the School of Energy for Aerial Ignition System for Wildfire Applications.
Second place went to Terry Calderbank, Navraj Kambo, and Brayden Aimar from the School of Energy for their submission on Autonomous Grape Harvesting Robot
Derek Wong, Maksym Chumsak, and Shaun Tseng from the School of Computing and Academic Studies received third place for Complex Elastic Optical Network Simulator.
2018
BCIT students with "Bright Ideas" win BIG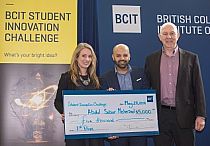 We had more than $13,000 in prizes and received the most exciting and diverse student submissions with representation from all the schools in 2018.
Entrepreneurship
Abdul Saboor Meherzad for Divine Natural Bars. Read about Abdul and Divine Natural Bars in BCIT Link magazine: Divine Inspiration.
Katie Haddad and Nancy Mach were 2nd with Hempkin (now Pepita Fresh)
Nicolas Griffiths was 3rd with Morty Board.
Applied Research
Combined Source Geo Exchange System: Emily Robinson, Eric Jacobson and Aaron Rendina
ROCES: Recovery and Optimization for Copper Recovery Systems: Navtej Heir and Andrew Ydenberg 2nd
VOLANTIS Convertible Drone: Timothy Or, Yu Hong Lam, Yuxuan Zheng, and Nicky Man in 3rd.
2017
Garth Newlands, marching to a new improved beat
Garth Newlands won the Entrepreneurship Award in the Student Innovation Challenge with his Ganaan Drum Harness and Mounting System. His innovation will improve marching band drum harnesses through an improved design and new materials.
The Applied Research Award was shared between two projects: Spencer Clayton, with his Targeted Darkening Eyewear Technology, and Andrew Miltimore and Aaron Rendina, for ElastoKers, a modular kinetic energy recovery system for a bicycle.
2016
Jeff Wright and Shane Bates finish ahead using 3D printing
Jeff Wright and Shane Bates won the Student Innovation Challenge with their project "Using 3D Printing to Design a New Cranial Remodeling Orthosis", which improves on current processes to treat brachycephaly, a condition in which babies have flat spots on their skulls.
2015
Jamie Haakons and Jenny Chen win with AutoGarden
Mechanical engineering student Jamie Haakons and his partner from School of Business Jenny Chen claimed the $1,500 first place prize at Student Innovation Challenge with their innovative take on gardening, AutoGarden.
2014
Broadcast Logger wins for Curtis Machek
Curtis Machek, with Broadcast Logger, a cloud-based audio logger built for radio broadcasters by radio broadcasters, won this year's Student Innovation Challenge in the best business venture category. Best Applied Research Project went to Kasun Somoratne, a student in the School of Energy, for Smart Turn, an all-in-one bicycle electrical instrumentation system.
Website: Cloudcast Software
2013
Gabriel Castanon and his Venterosso wine aerator wins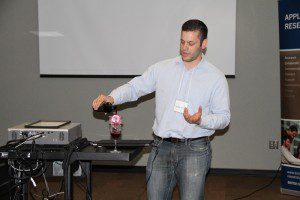 Gabriel Castanon with his innovative wine aerator, the Venterosso, won the 2013 Student Innovation Challenge. The judges were impressed with how thoroughly he had developed the Venterosso, and he was fully prepared for all the questions the judges threw at him. Second Place went to School of Business students Elton Lu and Yahoel Van Essen for Apparel Exclusive, their innovative loyalty and rewards business model aimed at local fashion markets. Best Business Plan prize went to Nalumbikya Mgana for his city parking solution, SENN Sensor. Best Applied Research prize went to a group of 3 engineers, Clayton McMunn, Tariq Shobab and Alex Hufsmith, for their "Third Wheel", an innovative trailer solution for motorcycles. Finally, Best Pitch went to Tyler Basu, whose idea for the Challenge was the Chatting with Champions online community.
2012
Nicola Gardner wins with Green Earth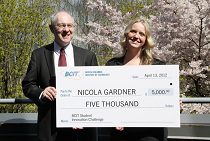 Business Administration student and current President of BCIT's Student Association, Nicola Gardner, took home the third annual Innovation Challenge top prize of $5,000 for her idea of a food waste collection company called Green Earth. A former restaurant server, Nicola was often bothered by how much food went to waste. Green Earth would pick up food waste from commercial food service units in Greater Vancouver and then deliver it to organic processing facilities where it could be turned into compost or bio-fuel. Runner up and recipient of the $1,000 prize, went to Jag Manhas for his company Ads on Naps. Jag's advertising company sells high-definition ad space on napkins, which are provided free of charge to businesses in Canada. Ads on Naps also took part in a mini-Dragon's Den hosted by the SFU Beedie School of Business.
2011
BCIT's Grace Soo delivers winning idea with SHIFT Delivery
Grace Soo's idea about a delivery service using zero-emission cargo tricycles called SHIFT beat out nearly 50 submissions to win the 2011 Challenge to pocket the $5,000 cash grand prize. Soo and her four partners at SHIFT operate a zero-emission delivery service using tricycles which have the capability to pull as much as 600 pounds. Second place, and an Apple iPad, went to Rhonda Dent (Marketing Management) for her idea of the Sun Center, a proposed wellness center for people who get Seasonal Affective Disorder (SAD).
Website: SHIFT Delivery
2010
Michael Hubele wins first Student Innovation Challenge with website idea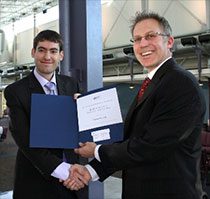 In the first year of the Challenge, BCIT computing student Michael Hubele won the BCIT Innovates Student Challenge by developing the website OnlineStudentPlanner.com.