Sustainability for a Complex World
School of Construction and the Environment
Covid-19 Update
To support you and your continued education, BCIT is adapting applied learning in formats appropriate to the unfolding global situation. We want to make it easier for you to work towards your future goals and get the education you desire. For the latest updates, review the COVID-19 Information.
Featured Story
BCIT South Wetland Restoration project brings education to life
"BCIT worked extremely hard over the summer with the faculty to figure out how we were going to deliver a traditionally very hands-on program — like ecological restoration — to the students, and do it in a COVID-19 compliant way," says Ken Ashley, Director of the BCIT Rivers Institute, standing at the site of the school's first ever wetland, located near Lot L and surrounded by trees.
The hands-on experience of building and restoring a real-life wetland is an important part of the Ecological Restoration Degree Program at BCIT, including the undergraduate class, Wetland and Estuary Restoration.
Interested in Sustainable Energy?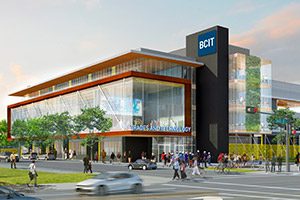 Your donation will help reimagine how students learn, break down barriers to higher education and transform the BCIT campus into a dynamic new place of applied learning and research innovation.
SOCE NEWS AND UPDATES IN YOUR INBOX
Industry Newsletter
Subscribe to the School of Construction and the Environment newsletter!
Subscribe Today