Welcome to the Zero Energy/Emissions Buildings Learning Centre
Net Zero Energy and Zero Emissions Construction
The BCIT Zero Energy/Emissions Buildings Learning Centre (ZEBLC) supports the construction industry with transitioning to the BC Zero Carbon Step Code and City of Vancouver Zero Emissions Building bylaws. We provide a full suite of Net Zero Energy and Zero Emissions Construction courses that are short and hands-on at the High-Performance Building Lab and online. Our courses help different construction practitioners with understanding the building science and construction details and practices associated with the BC Energy Step Code, Passive House standard, and other zero emissions buildings topics.
Energy Management and Building Retrofits
We also support the industry by offering programs designed to drive down energy consumption and greenhouse gas emissions from the existing building stock. Our energy management certificates have already prepared hundreds of professionals for a rewarding career that focuses on addressing our climate crisis. Our certificates are 100% online and part-time, perfect for busy professionals wanting to evolve their careers.
Learn More
100% tuition costs for 3 microcredentials
Stronger BC future skills grant
Winter 2024: Funding under the StrongerBC future skills grant program will be available in Winter 2024 for those learners who initiated a program of study in the Fall 2023 term using their future skills grant grant funding of $3500 and whose program extended beyond that first semester (midstream learners).
Fall 2024: For other students, we are pleased to confirm there will be funded programs available in the Fall (September) 2024 term. This funding will be available for new learners who have not yet accessed future skills grant funding, and for those who have already accessed future skills grant funding less than the $3500 lifetime maximum.
Featured courses and programs
New – Heat Pump Installation Course
This new course builds on the experience and theoretical knowledge of residential HVAC contractors, who are predominantly plumbers, gas fitters, and sheet metal workers. It introduces practical skills and provides hands-on experiences required for single-family residential air source heat pump installation. This course is offered in the BCIT High-Performance Building Lab, which hosts two different central heat pumps, a dual fuel system, and a multizone heat pump with a wall-mounted mini split, a slim duct indoor unit, a ceiling cassette, and a vertical central air handling unit.
Learn more about or register for XZEB 1143.

I highly recommend Zero Energy Buildings
"In early 2021, I visited the BCIT ZEB training facility and after meeting Alex and learning about the course, it was an easy decision to add it to our professional development program at Bird in Vancouver. Nearly forty team members, myself included, completed the course in the summer of 2021. We gained critical knowledge and a better understanding of Passive House Design and Certification. The content, the instructors, and delivery were exceptional and applicable to our business as we continue to work on projects that drive sustainability and deliver on our ESG strategy. I highly recommend this program for all design and construction professionals as it will prepare you for future code requirements and help develop strategies to reduce the carbon impact of buildings in our communities. Thank you to everyone at BCIT ZEB!"
– Dom Costantini, Vice President, Operations, Bird Construction

You inspired and equipped individuals to contribute towards a greener and more environmentally sustainable future
"The comprehensive syllabus and engaging sessions you provided during the Modern Approach to High-Efficiency Buildings Seminar in the Town of Creston were instrumental in imparting invaluable knowledge and insights to builders, tradespeople, suppliers, and other participants. The feedback we received from participants has been overwhelmingly positive.
Your ability to effectively communicate complex concepts, share practical examples, and encourage interactive discussions ensured that participants gained a deeper understanding of the evolving practices and solutions required to meet more stringent energy and emission performance standards. By emphasizing the importance of energy efficiency and low-carbon building practices, you inspired and equipped individuals to contribute towards a greener and more environmentally sustainable future."
– Brandon Vigne, Manager of Building & Bylaw Services & Asha DeLisle, Affordable Housing & Climate Change Coordinator, Town of Creston
Why learn with us
Flexible learning
Online delivery with the option of in-person learning. Get the best of both worlds.
Practical training
Tailored to busy working professionals, our courses are short, hands on, and relevant.
Highly regarded
Maximize your investment with the best learning offered by our industry experts.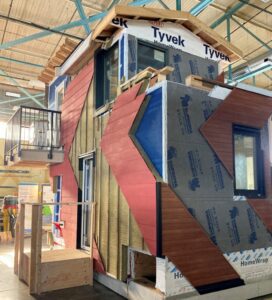 Get in touch
Have a question or comment? Please contact us by phone or email.
High Performance Building Lab Location:
Building NW3 (room 101)
BCIT Burnaby Campus
3700 Willingdon Ave, Burnaby, BC V5G 3H2
Contact Us
ZEB news and updates in your inbox
Updates
Subscribe to receive updates from Zero Energy Buildings Learning Centre.
Subscribe Today