Welcome to the Zero Energy/Emissions Buildings Learning Centre
Net Zero Energy and Zero Emissions Construction
The BCIT Zero Energy/Emissions Buildings Learning Centre (ZEBLC) supports the construction industry with transitioning to the BC Zero Carbon Step Code and City of Vancouver Zero Emissions Building bylaws. We provide a full suite of courses that are short and hands-on at the High-Performance Building Lab and online. Our courses help different construction practitioners with understanding the building science and construction details and practices associated with the BC Energy Step Code and the Passive House standard.
New – Microcredentials!
The BCIT ZEBLC is now offering three new microcredentials. Learn more:
Energy Management and Building Retrofits
The BCIT Zero Energy/Emissions Buildings Learning Centre (ZEBLC) also supports the industry by offering programs designed to drive down energy consumption and greenhouse gas emissions from the existing building stock. Our energy management certificates have already prepared hundreds of professionals for a rewarding career that focuses on addressing our climate crisis. Our certificates are 100% online and part-time, perfect for busy professionals wanting to evolve their careers.
Learn More
Why learn with us
Flexible learning
Online delivery with the option of in-person learning. Get the best of both worlds.
Practical training
Tailored to busy working professionals, our courses are short, hands on, and relevant.
Highly regarded
Maximize your investment with the best learning offered by our industry experts.
Featured courses and programs

I highly recommend Zero Energy Buildings
"In early 2021, I visited the BCIT ZEB training facility and after meeting Alex and learning about the course, it was an easy decision to add it to our professional development program at Bird in Vancouver. Nearly forty team members, myself included, completed the course in the summer of 2021. We gained critical knowledge and a better understanding of Passive House Design and Certification. The content, the instructors, and delivery were exceptional and applicable to our business as we continue to work on projects that drive sustainability and deliver on our ESG strategy. I highly recommend this program for all design and construction professionals as it will prepare you for future code requirements and help develop strategies to reduce the carbon impact of buildings in our communities. Thank you to everyone at BCIT ZEB!"
– Dom Costantini, Vice President, Operations, Bird Construction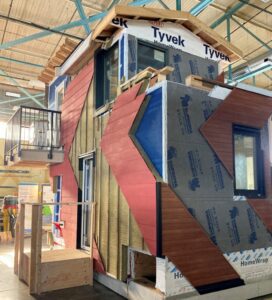 Get in touch
Have a question or comment? Please contact us by phone or email.
High Performance Building Lab Location:
Building NW3 (room 101)
BCIT Burnaby Campus
3700 Willingdon Ave, Burnaby, BC V5G 3H2
Contact Us
ZEB news and updates in your inbox
Updates
Subscribe to receive updates from Zero Energy Buildings Learning Centre.
Subscribe Today