BCIT students collaborate with YVR Innovation Hub to develop IoT water monitoring station
In partnership with YVR Innovation Hub, Jonathan Bassan, Director, BCIT Centre for Internet of Things (IoT), led more than 40 students from BCIT School of Energy and School of Computing and Academic Studies (through Industry Sponsored Student Project) to collaborate with MAKE+ Applied Research in designing an innovative Internet of Things (IoT) water monitoring station.
Utilizing expertise from multiple programs, the students designed and implemented:
A smart device using C programming to connect a wide range of sensors to an Arduino
Communication and power design addressing NB-IoT cellular communication and power consumption by the device, ensuring data is sent to the cloud
AWS cloud architecture to store the incoming data (mentored by external experts from Rackspace and Onica)
Web-based dashboard enabling the operator to monitor and track changes in real-time
Mechanical and electric design and fabrication of a working prototype
Eco-tech: Urban waste management solutions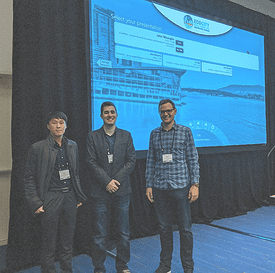 It's not the most glamourous topic, but we create waste every day. Out of sight can be out of mind, with waste streaming seemingly smoothly into municipal and industrial systems. However the alarm is being sounded – from plastics in the ocean, to landfill leachate – we need to better manage our outputs.
In their course on Algorithms Research and Development, teams of Computer Information Technology (CIT) Diploma students work on a research project. This past year, in celebration of BCIT's co-hosting of the Ecocity World Summit, data-related sustainable cities projects were encouraged. Two teams were even invited to present their waste reduction projects at the summit.
BCIT students are harnessing the power of the sun to address food waste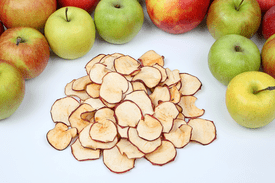 For many agricultural communities in the Global South, the resources and technology to store their harvests aren't accessible, leaving tonnes of fruit and vegetables going to waste every day. Along with increasingly unpredictable changes in climate, this can further jeopardize the livelihoods of farmers whose work is already precarious.
One group of BCIT Enactus students is working on a project to help address this food waste by leveraging the power of the sun. Named Ra Solutions after Ra, the Egyptian god of the sun, the project focuses on developing solar dehydrators to provide an efficient, safe, and cost-effective way to dry fruits and vegetables in regions with warm climates and little access to other forms of food storage.
BCIT student traces salmon through digital cartography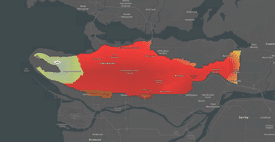 Urban roadways aren't your typical medium for illustration, but for Tristan Bobin, they present a unique opportunity to evoke meaning about a place through imagery. As a student of Geographic Information Systems at BCIT, Tristan took a special interest in how digital cartography could be used to visualize a story in the landscape. Using his bicycle and a watch equipped with a global positioning system (GPS) receiver, Tristan cycled across the Burrard Peninsula following a pattern that, when mapped out, sketched the outline of a Sockeye Salmon.
Where does your recycling go?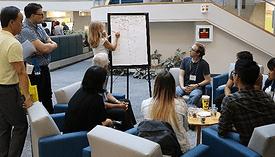 An environmentally-focused workshop bringing together, students, industry experts, and researchers was held at the BCIT Center for Applied Research and Innovation (CARI) to discuss an important topic that sparks the curiosity of many: Where Does Your Recycling Go?
The workshop is part of BCIT Project Leader Joey Dabell's applied research project on "Building Recycling Pathways Towards Personal Net Zero and Informing Recommendations for Policy Makers: A Student-focused Citizen Research Approach", which provides a "citizen research" perspective to answer what a motivated, responsible individual can do to reduce their own footprint. As part of the workshop, a summer student research project that involved students as "investigative researchers" was introduced.
3D Models Recognition: How students are building the future of prosthetics development
When you're building prosthetics, they need to be perfect. Teaching a computer to model the human body is a key – but challenging – first step. As part of the Data Structures and Algorithms course in the BCIT Computer Information Technology (CIT) Diploma, a team of three BCIT students worked on 3D model recognition. In collaboration with BCIT's MAKE+, this project builds on the industrial research work Dr. Silvia Raschke has conducted with machine learning leader company Wiivv (Nov 2020: Wiivv is transforming into FitMyFoot). It aims to improve accuracy in prosthetics development using printed 3D models.