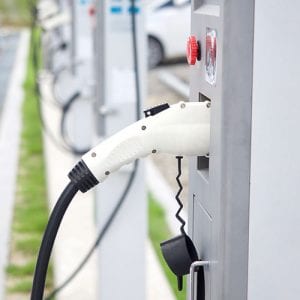 BCIT's Smart Microgrid Applied Research Team is working on research, development and demonstration (RD&D) initiatives aimed at solutions that will reduce barriers to the adoption of Electric Vehicles (EVs). These projects will build on a recently completed renewable (solar PV) energy generation, energy storage, and electric vehicle charging infrastructure project called Energy OASIS, located at BCIT's Burnaby campus.
BCIT awarded $1.7 million to address barriers to electric vehicle adoption
May 5, 2021 – This project will demonstrate EV infrastructure solutions that improve interoperability issues, grid efficiencies and drivers' charging experience. Federal funding for this project was provided through Natural Resources Canada's Green Infrastructure – Electric Vehicle Infrastructure Demonstration Program, with BCIT, FLO | AddÉnergie, the City of New Westminster, IBX Data Systems and Sun Country Highway also investing in the project, bringing the total funding amount to over $4.1 million.
Read more