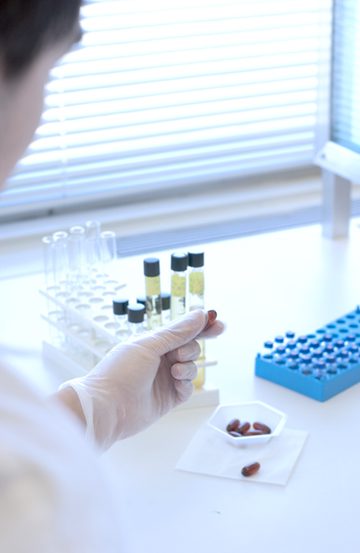 Applied Research serves a vital function of linking BCIT's diploma and degree programs with applied training opportunities. We have forged strong partnerships with university collaborators and continue to encourage training opportunities for graduate and undergraduate students. BCIT's Natural Health and Food Products Research Group (NRG) has provided training for 100s of students including: undergraduate students, cooperative education students, students conducting industry projects, graduate students, and  post-doctoral fellows.
Because specialized training in the chemistry and analysis of natural health products is not currently available from any academic institution in Canada, the instruction and mentorship that NRG provides to students is paramount to their on-going success in this field.
Graduate internships
Our ongoing graduate internships are partially funded by Agriculture and Agri-Food Canada's Career Focus Program and Environment Canada's Science Horizon Program. Interns participate in challenging NRG projects through hands-on technical work and project documentation. They are involved in the development and execution of methods for the analysis of raw materials and medicinal preparations, as well as the dissemination of project results.
Cooperative Education Placements
Students enrolled in the joint BCIT-UBC Honours in Biotechnology program are required to complete 4 four-month cooperative education terms as part of their graduation requirements. Since 2002, NRG has supported the program by providing employment opportunities where students participate in on-going scientific research projects funded by industry or through government grants. Student gain a variety of skills including sample preparation techniques, literature review approaches, equipment and advanced analytical instrumentation operation, and data & statistical analysis to name a few.  This opportunity allows the students to expand on foundational skills acquired during their academic curriculum.
Industry projects
BCIT's Food Technology Students are required to complete an industry project during their final term of study. With direction from an industry sponsor, each student must conduct a literature review, develop detailed methodology, write progress reports, and disseminate their results through a final oral presentation and technical report. NRG researchers help supervise students throughout this process when projects require the use of advanced analytical equipment and methodology.