The MAKE+ advantage is diversity. Our team of engineers, technologists, industrial designers, manufacturing specialists and project managers will conduct and coordinate all aspects of your project from business opportunity assessment through to verification and validation of your product's performance.
MAKE+ has a sub group called PART that is ISO 13485 (Medical Devices) certified.
If you have a potential project in mind, ask a MAKE+ research expert.
Thom Bellaire, Dipl.T.
Research Analyst, Plastics Technology
MAKE+ and Product and Process Applied Research Team
Email: Thom_Bellaire@bcit.ca
Thom's training in sculpture and design led him into the plastics field as a possible outlet for creativity and making useful objects. After graduating from the two-year Plastics Technology Program at BCIT in 2000, he joined the BCIT Technology Centre. Prior to pursuing a career in plastics, Thom was a motion capture technician, model builder and animator for a video game company. Today he enjoys the creative and collaborative process of developing innovative medical devices.
Thom works on a variety of medical and assistive device technology projects. He is deeply involved in many aspects of applied research and product development including: requirements and concept development, detailed design, fabrication and verification and validation activities.
Jaimie Borisoff, PhD, BASc
Director, MAKE+
Email: Jaimie_Borisoff@bcit.ca
Dr. Borisoff focuses his research on how technology development can improve accessibility and mobility for people with SCI. One focus of his work is on expanding patients' ability to interact more fully with others, the environment, and their world. This includes dynamic wheeled mobility, the ability to change your position in a wheelchair to suit different daily activities. Rehabilitation Engineering Design looks at how people use devices in real life and, from these observations, designs better versions of the devices. In the long term, Dr. Borisoff wants to merge current models with newer technologies like robotics and exoskeletons in order to increase the ways in which technology can improve the lives of people with SCI.
Dr. Borisoff is the former Canadian Research Chair in Rehabilitation Engineering Design at the British Columbia Institute of Technology. He is also an Adjunct Professor in the Department of Occupational Science and Occupational Therapy and the Biomedical Engineering Program, both at the University of British Columbia, as well as a Principal Investigator at ICORD.
Education
PhD, Neuroscience; University of British Columbia
BASc, Engineering Physics; University of British Columbia
Awards
Best Pick Wheelchair for the Elevation Wheelchair in Mobility Management (2015)
Queen Elizabeth Diamond Jubilee Medal (Governor General, 2012)
Canada Research Chair in Rehabilitation Engineering Design Tier 2 (2011)
Nominee for the Elevation Wheelchair (Manning Innovation Awards, 2008)
Publications
Google Scholar profile:
Recent projects
AAPLEwalk™ sit to stand exercise machine
Adapted ergometers (aROW and aSKI)
Phone based peer physical activity counselling program for people with spinal cord injury
Power assist add-on technologies for manual wheelchairs
Ultralight wheelchair with on-the-fly adjustability of rear seat height, backrest angle, and a "kneeling" function
Integrated staircase lift for home access
An integrated exoskeleton-wheelchair mobility concept
Collaborators
Funding Partners
University and Community Partners
Industry Partners
Student researchers
The REDLab provides training and mentorship to a wide range of students.  Students are engaged in most of our projects and we value the contribution that they make to our team.  Our students range from those doing their PhD to undergraduates doing their Capstone and summer research projects. We also engage students for co-op semesters and for part-time employment during the regular school terms.
Our students come from a variety of different backgrounds, including:
mechanical engineering
bio-medical engineering
occupational therapy
architecture
health economics
We have hosted students from both local and international educational institutes, including:
Research Centres
Lisa Boulton
Research Associate, Industrial Designer
MAKE+ and PART
Email: lboulton@bcit.ca
Lisa is an Industrial Designer by education, however, she sees her role in the world as more of a translator – specializing in bringing together divergent fields to facilitate innovative new futures.
Lisa's research has reached global audiences through juried selection for exhibition at Local Wisdom at the University of Arts London and the DESIS Network (Design for Sustainability and Social Innovation) in Milan, Italy, and her work can be found in Kate Fletcher's Craft of Use: Post-Growth Fashion.
Supporting community and enabling new opportunities, Lisa is engaged with the Vancouver Design Nerds as Project Lead and Steering Committee Member. Her more recent work with the Nerds was a series of co-creative facilitation of urban redesign. Lisa is personally and professionally human-centered with a practice and candor that puts the needs of people first. She's compulsively creative and a communicator at heart.
Rory Dougall, BSc, DiplT
Research Analyst
MAKE+
Email: Rory_Dougall@bcit.ca
Rory works for Dr. Jaimie Borisoff at the REDLab. His work involves the development and testing of assistive technologies. Rory is skilled in the creative concept generation process, designing in Solid Works/CAD, and prototype fabrication.
A graduate from the Mechanical Engineering Technologist Program at BCIT, Rory combines this knowledge with knowledge gained from a bachelor's degree in Environmental Science with a concentration in Physics. Previous work experience involved three years of field work as a fish biologist.
Rory is very interested in exploring the intersection of environmental science and mechanical engineering. This can take many forms but in particular, biomedical engineering, green design and biomimicry.
Judy Findlay, MASc, PEng
Project Leader
MAKE+ and PART
Email: Judy_Findlay@bcit.ca
Judy M. Findlay is an experienced biomedical engineer who leads projects in the research, development and commercialization of new medical devices. She has a Master's degree in applied science from UBC, and 25 years of experience. Judy's work at BCIT in applied research has been complemented by significant periods of time working directly for medical device companies to help with product development, design verification, regulatory approvals, and design transfer to manufacturing.
Judy also has experience in Quality Systems and Quality Engineering and has led the development of Quality Management Systems certified to ISO 13485 and ISO 9001. She has assisted organizations with their quality systems and quality control.
Judy focuses on medical device development projects that have commercial potential. Awards and recognition include: Business in Vancouver's Top 40 under 40; the Medical Design Excellence Award, for the FAST1 System; the Meritorious Achievement Award from the Association of Professional Engineers, and patents.
Contact Judy Findlay for assistance with:
Biomedical engineering
Medical device design, development and evaluation
Quality management systems
Design transfer to manufacturing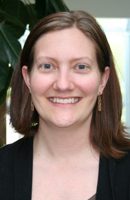 Sara Frederking, DiplT
Research Analyst
MAKE+ and PART
Email: Sara_Frederking@bcit.ca
With MAKE+ since 2000, Sara has been responsible for various aspects of product development and evaluation research studies (recruiting participants, obtaining informed consent and conducting interviews)
Sara is also a member of the Quality Management System that oversaw the original certification to ISO 13485 and ISO 9001 in 2007, and the maintenance of that certification since. Currently Sara is the QS Coordinator for MAKE+.
Matt Greig, DiplT, BTech
Research Associate
MAKE+ and PART
Email: Matt_Greig@bcit.ca
Matt Greig joined the Technology Centre after graduating from the Electronics Engineering program at BCIT in 1999.
Matt's specialized expertise in computer-control electronics has made him a valuable team member on a wide variety of projects. His skills include the following:
Design and programming of embedded microcontroller systems
Design and construction on switch mode power supplies
Design and implementation of mixed signal circuits
Design and programming of computer controlled power supplies
Machining, fabrication and welding
Use and maintenance of PV test and simulation equipment
In his spare time, Matt enjoys Martial Arts and outdoor activities.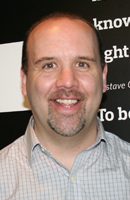 Nigel Halsted, DiplT, BTech, MBA
Research Associate, Robotics & Automation (Health Technology)
MAKE+ and PART
Email: Nigel_Halsted@bcit.ca
Nigel's educational background includes: Biology, Biochemistry, Technology Management and Robotics. He also holds MBA degrees from Queens and Cornell Universities.
Since joining Applied Research in 1997, Nigel has been engaged in the development of numerous health related applied research and prototype development projects. By having deep product development knowledge and a pragmatic perspective on venture development, he brings a holistic approach to solving client's strategic, business and technical problems. Nigel is deeply involved in the development and management of the MAKE+ Quality Management System that is certified to ISO 9001 and 13485 standards, and teaches and mentors students in the BCIT Prosthetic and Orthotics program.
Areas of expertise
Project Management
Quality Management Systems
Medical Device and Product Development: Design Requirements, Concept Development, Detailed Design, Fabrication, Verification and Validation
Business Administration, Strategy, Venture Development
Robotics and Automation
Technology Management
Nigel enjoys the creative and diverse atmosphere at MAKE+. "Every day is new and exciting here because you never know what kind of great ideas are going to present themselves. MAKE+ allows me to use my training and experience to really make a difference in people's lives."
When not at work, Nigel enjoys cycling, kayaking, hiking and cross-country skiing.
Dr. Yvette Jones, PhD
Project Leader, Human Kinetics
MAKE+
Email: Yvette_Jones@bcit.ca
Key areas
Biomechanics
Exercise physiology
Orthotics
Running mechanics
Ergonomic assessment
Medical device development
Product evaluation
Canine
Education
PhD (Biomedical Engineering) Strathclyde University
MSc (Human Kinetics) UBC
Awards
Worksafe BC – Workplace Health Innovation – 2012 Award of Merit Recipient (Ergonomic Syringe Adapter for Chemotherapy Delivery)
Research Activities
Jones Y, Borisoff J. "Influence of Seat and Backrest Angle on Trunk and Shoulder Biomechanics of Manual Wheelchair Users During Inclined Wheeling". ICORD 2018 Annual Research Meeting.
Jones Y, Borisoff J. "Influence of Seat and Backrest Angle on Trunk and Shoulder Biomechanics of Manual Wheelchair Users During Inclined Wheeling". International Seating Symposium, March 2018
Jones, OY, Raschke SU, Kenyon D, Riches PE. "Inertial Properties of the German Shepherd". 8th International Conference on Canine and Equine Locomotion (ICEL8), London, UK, August 2016
Jones Y, Raschke S, Kenyon D, Riches, P. "Body Segment Parameters and Inertial Properties of the German Shepherd Police Dog". Congress of the International Society of Biomechanics, Glasgow, United Kingdom, July 2015.
O. Yvette. Jones. "The Inertial Properties of the German Shepherd". University of Strathclyde. Dept. of Biomedical Engineering. Thesis [Ph. D] — University of Strathclyde, 2015.
Analyzing Performance with the BLUR Skate [PDF], Applied Research at BCIT, 2014.
Rashcke, Silvia U, Wong, Angie and Jones, Yvette. "Evaluation of Canine Ballistic Vests for Effect on Body Core Temperature". 8th International Working Dog Conference. October 2013
A canine model for use in assessing and treating injured police dogs
Research Collaborators
Industry
Community
Student Researchers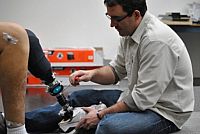 Brittany Pousett, Uncovering the effects of torsion adaptors on activities of daily living (BCIT Capstone Project)
In collaboration with Caroline Soo, BCIT Prothetics and Orthotics.
Brittany's present position: Head of Research, Barber Prosthetics

Ana Moreno Hernandez. Co-Supervisor Master's Thesis: Using Measures of External Work to Assess the Degree of Gait Symmetry.

In collaboration with Dr. David Sanderson at UBC Kinesiology
Research Centres
Garrett Kryt, MASc, BEng, EIT
Research Analyst
MAKE+ and PART
Email: Garrett_Kryt@bcit.ca
Garrett Kryt has a Bachelor's of Mechanical Engineering from the British Columbia Institute of Technology, and a Masters in Mechatronics Systems Engineering from Simon Fraser University. Garrett's work focuses primarily on research and development under the REDLab headed by Dr. Jaimie Borisoff.
Garrett combines his love of mechanisms and machine design with a growing skill set in electronics design and prototyping. With previous experience as a bicycle mechanic prior to his education, Garrett is able to draw on his applied mechanical knowledge throughout the design process.
Interesting projects Garrett has been involved with include:
Design of a novel power-assist wheelchair system
Power wheelchair control using a Wii U remote
Design and fabrication of a hysteresis brake dynamometer
Design of a handcycle car rack for users with disabilities
Johanne Mattie, MASc, BASc
Project Lead, Biomedical Engineering, Human Factors
MAKE+
Email: Johanne_Mattie@bcit.ca
Johanne Mattie has over 25 years of experience related to the research and development of assistive technology and healthcare solutions. She spends most of her time working on REDLab projects related to wheeled mobility and adapted exercise solutions.
Johanne's areas of expertise include: needs assessment, device evaluation, and human factors engineering. She uses a variety of different methods to better understand the fit between the end users and technology, including focus groups, interviews, simulation, and observational analysis.  She also uses a range of sensor technologies and physiologic measures to quantify performance and effectiveness. See Motion Capture lab for available tools and resources.
Education
MASc, Bio-medical Engineering; Department of Mechanical Engineering at the University of Toronto
BASc, Mechanical Engineering; University of British Columbia
Recent projects
AAPLEwalk™ sit to stand exercise machine
Adapted ergometers (aROW and aSKI)
Phone based peer physical activity counselling program for people with spinal cord injury
Power assist add-on technologies for manual wheelchairs
Ultralight wheelchair with on-the-fly adjustability of rear seat height, backrest angle, and a "kneeling" function
Integrated staircase lift for home access
Testing of prosthetic feet to evaluate biomechanical characteristics, patient preference and activity level
Scanning, 3-d printing, and analysis of prosthetic and orthotic componentry
An integrated exoskeleton-wheelchair mobility concept
Collaborators
Researchers
Dr. Carolyn Sparrey (Simon Fraser University- Mechatronics Systems Engineering)
Dr. Krista Best, Dr. Francois Routhier, Caroline Rahn (Université Laval, Quebce)
Dr. Ben Mortenson, Dr. Bill Miller (University of BC – Occupational Therapy)
Dr. Bonnie Sawatzky (Department of Orthopaedics, Faculty of Medicine, University of British Columbia)
James Laskin (School of Physical Therapy and Rehabilitation Science, University of Montana)
Brittany Pousett, Malena Rapaport (Barber Prosthetics)
Julien Gardan (Université de Technologie de Troyes- Laboratoire des Systèmes Mécaniques et d'Ingénierie Simultanée, Troyes, France)
Dr. Gary Birch (Neil Squire Society)
BCIT Prosthetics and Orthotics Faculty
BCIT Nursing Faculty
Community
Student researchers
Student supervision: BCIT, other Canadian institutions and international institutions during internships and student projects.
Research centres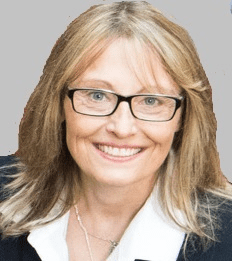 Dr. Silvia Raschke, PhD
Project Leader, Orthopaedic and Assistive Devices
MAKE+
Email: Silvia_Raschke@bcit.ca
Key areas
Prosthetics and orthotics
Assistive technology design
Biomechanics
Device evaluation
Evidence based practices
Gait analysis
Health and safety devices
Kinesiology
Orthoses
Product design
Canine, policing, public safety, safety devices, veterinary products, service dogs for PTSD
Education
PhD (Prosthetics and Orthotics) Strathclyde University
BA (Psychology) UBC
Diploma (Prosthetics and Orthotics) BCIT
Awards
Thranhardt Best Paper 2013
Research Activities
Silvia Raschke, Ph.D., Project Leader, MAKE+, Orthopaedic and Assistive Devices, is Editor-in-Chief of the Canadian Prosthetics and Orthotics Journal (CPOJ) and  Editor of the recent CPOJ Special Issue: Health Economics in Prosthetics & Orthotics.  It is the first collection of works published in academic literature on a wide range of issues that touch the economic and business aspects of Prosthetic and Orthotic sector. Read More
Co-Editor-in-Chief, Canadian Prosthetics and Orthotics Journal

S. Raschke, "TRANSFORMATION, REVOLUTION, EVOLUTION: PROVOCATIVE TIMES FOR PROSTHETICS & ORTHOTICS?", Canadian Prosthetics & Orthotics Journal, Vol. 1, No. 1, July 2018.

Collaboration with University of Saskatchewan (Dr. Colleen Dell and team members) and the charity AUDEAMUS Inc. in developing curriculum for training of service dogs to support veterans with PTSD.
The World of 3D Printing in Prosthetics and Orthotics. BCIT Applied Research blog, 2017
Orendurff, Michael S; Raschke, Silvia U; Winder, Lorne; Moe, David; Boone, David A; and Kobayashi, Toshiki.
"Functional level assessment of individuals with transtibial limb loss: Evaluation in the clinical setting versus objective community ambulatory activity". Journal of Rehabilitation and Assistive Technologies Engineering, March 2016, Volume 3
Investigation of the use of 3D printing to combine the convenience of prefabrication with the benefits of customization to support research on optimization of orthotic design. NSERC Engage Grant, 2014
Raschke, Silvia U. "Which Foot? A Comparative Effectiveness Study of Subject-Generated Ankle Kinetics as a Measure of Prosthetic Foot Function Across a Range of K Levels [PDF]"  American Orthotic and Prosthetic Association, 2014
Raschke, Silvia U. "The Impact of Step Targeting During Normal Gait for Persons Wearing Either a SACH or a Dynamic Response Foot [PDF]" American Orthotic and Prosthetic Association, 2013
Rashcke, Silvia U, Wong, Angie and Jones, Yvette. "Evaluation of Canine Ballistic Vests for Effect on Body Core Temperature". 8th International Working Dog Conference. October 2013
Raschke, Silvia U and Hovbrender, Axel. "Collaborative Approach to Ensuring the Health and Safety of Persons with Disabilities when Interacting with Law Enforcement Officers"  Officers Strategic Threats and Critical Incident Response Conference, International Law Enforcement Forum. May 2011
Research Collaborators
Industry
Community
Student Researchers
Maya Geoffrey, Finite Element Modelling of 3D Printed Prosthetic Sockets

In partnership with Dr. Julien Gardan at the University of Technology in Troyes (UTT)

Aimiee Lizcano, Test Protocol Development and Pilot Testing of 3D printed sockets
Julian Hoch, User Testing of Prosthetic Feet
BCIT Electrical Engineering Students: Development of instantaneous image capture tool

In partnership with Neil Cox and Edmund Zahedi

David Seibt: Culture Change in P&O through 3D printing
Braceworks Pectus Student Project

Collaboration BCIT – Fraunhofer IPA
Research Centres
Gordon Thiessen, Dipl.T., B.Ed.
Research Associate, Mechanical
MAKE+ and PART
Email: Gordon_Thiessen@bcit.ca
Gordon has a Bachelor's degree from the University of Alberta and also is a BCIT graduate of two diploma programs. The first, in Mechanical Engineering Technology, was completed in 1981. The second diploma, in Robotics and Automation, was completed in 1987. The combination of these two diplomas gives Gordon a diverse background in both mechanical and electronic systems.
Gordon has worked as an Automation Technologist in the Telecommunications industry where he automated production processes in the manufacture of printed circuit boards for an international corporation. He has since taught in the Robotics and Automation Technology program at BCIT before transferring to the Technology Centre in 1998. Gordon continues to work closely with faculty and students on a variety of projects.
Some of the projects that Gordon has worked on include:
design and fabrication of an automated chocolate molding process
mechanical redesign of a warehouse dock leveling system
Automated Flux Dispensing system for analyzing soil samples
enhancement of a railway crossing arm to reduce accidents at level crossings
automation of an industrial process that makes oil-absorbing foam pads
automation of a rubber mat manufacturing process
a solar-powered digital voice recorder
solar cell and solar module test equipment
a WCB-sponsored Tool Support Arm project for the construction industry which received the 2007 Most Innovative Product award from the World of Concrete and the 2008 Vancouver Regional Construction Association Silver Award for Construction Workplace Health and Safety Innovation.
In his spare time Gordon plays soccer and basketball when not working on his 1965 Cobra replica.
Angie Wong, BSc
Research Analyst, Electrical Engineering
MAKE+ and PART
Angie joined BCIT's Technology & Product Evaluation Group in 2005, working out of the Dr. Tong Louie Living Laboratory. In her previous experience, she has been involved in research and development for new equipment and emerging technologies. This included the design, (laboratory and field) testing, evaluation, and implementation of equipment and public services.
Her desire to make a difference in people's lives and to improve the quality of life for older adults and persons with disabilities is what attracted her to BCIT's Living Laboratory.
She currently conducts research on health related topics and assists with projects that address issues affecting seniors, persons with disabilities, health care workers, and/or the general public.