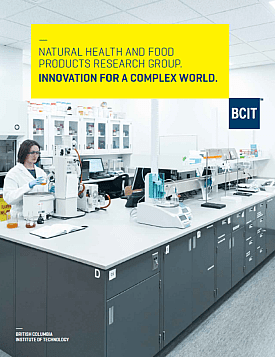 BCIT's Natural Health and Food Products Research Group (NRG) has actively supported the natural health product and food industries for almost 20 years through applied research activities, training and education, and volunteer board appointments. Supported by grant funding and industry contracts, the team focuses on projects related to health policy, regulatory affairs, product formulation, botanical authentication, analytical method development and validation, chemometrics, and therapeutic monitoring for preclinical and clinical studies.
Product Quality Framework
Within the product quality framework, NRG places a strong emphasis on:
Recent projects
Cannabis Research at BCIT Supports Quality Control 
Funding: CRC, CFI
By characterizing the cannabis metabolome (breaking down cannabis at a base level) and validating testing methods to evaluate the plant, Dr. Brown and the BCIT Natural Health and Food Products Research Group (NRG) are developing the industry-standard tools that governments, producers, and scientists will need to fully understand this complex plant.