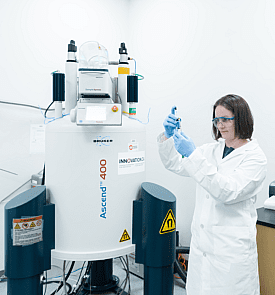 BCIT's Natural Health and Food Products Research Group (NRG) is well equipped to work with you on matters concerning medicinal plants, natural health products and food processing. NRG is comprised of researchers with the combined capabilities needed to solve processing, analytical, and preclinical challenges.
The Phytoanalytics Lab is fully equipped for research-oriented investigations. The Lab's integration of classical tools with leading-edge technology allows for innovative applications and approaches, and positions BCIT as a Canadian leader in supporting the agricultural and natural health product sectors.
We provide commercially relevant research solutions and services:
Product quality, safety, and global market access
Conducting evidence-based product development using relevant bioassays and innovative quality control systems.
Product development and commercialization
Ensuring products meet health standards across regulatory boundaries.
Quality control systems for traditional medicine
Using advanced chemometric tools for monitoring product quality.
Clinical trial design and support
Ensuring well-characterized material is used to yield scientifically valid results.
Expansion of viable agricultural and food alternatives
Enhancing economic development using environmentally sound and sustainable agricultural practices.
If you have a project idea, please use our project enquiry form. If you have a question about our services, contact research@bcit.ca.