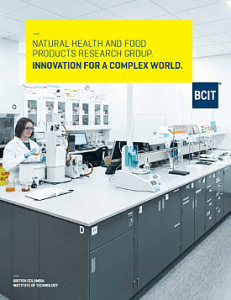 BCIT's Natural Health and Food Products Research Group (NRG) addresses issues of product quality, process improvement and human health using basic and applied science along with state of the art technology. Our goal is to ensure that all Canadians can achieve the potential health and economic benefits offered by medicinal plants, natural health products and the food industry.
With an emphasis on product sources and quality standards, our projects focus on health policy, regulatory affairs, product formulation, botanical authentication, analytical method development and validation, chemometrics, and therapeutic monitoring for pre-clinical and clinical studies.
Our research and development is closely linked with the priorities and policies created within the provincial and national natural health product, food and agricultural industry, and by the government agencies regulating these sectors.
For more information on our research, please contact us. If you have a specific project enquiry, please use our project enquiry form.
Learn more about our exciting research