FEED Study for a Hybrid Renewable Energy Platform
BCIT's Smart Microgrid Applied Research Team worked on a front end engineering and design (FEED) study for a hybrid renewable energy platform for the Lutsel K'e Dene First Nation in Canada's Northwest Territories. The FEED study will result in the selection of technologies for the energy platform based on resource availability, site selection and initial design and costing for the demonstration project.
The project was funded by Natural Resources Canada (NRCan), through their Clean Energy for Rural and Remote Communities program. The NRCan contribution was $930,000, with a project total of $ 1,155,000. The lead proponent for the project was Denesoline Corporation, the business development arm of the Lutsel K'e Dene First Nation. Partners include BCIT SMART, Arctic Canada Construction Ltd., Ryfan Electric and Yukon College.
The completed FEED study will be used to determine required permitting, conduct an environmental impact assessment as well as consult with the community, utility and other energy stakeholders that could be impacted by integrating renewable energy into the community's diesel microgrid.
The demonstration project has the potential for use in other off-grid diesel-powered communities, reducing their fossil fuel use and resulting in lower greenhouse gas emissions, improved air quality and socioeconomic benefits.
Project Lead: Minoo Shariat-Zadeh, SMART

Further information:
Virtual Clean-Energy Training Platform for First Nations Communities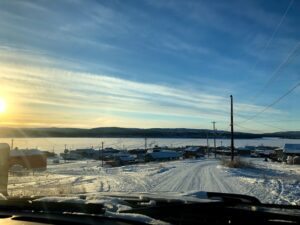 BCIT has partnered with Siemens Canada, Denesoline Corporation (Łutsël K'é Dene First Nation's wholly-owned subsidiary), and the Digital Supercluster to provide an online vocational training program in Clean Energy Power Plants. This project is a total investment of $1.2 million with $700,000 invested by industry and $500,000 co-invested through the Supercluster's Capacity Building Program.
This project will create a virtual experiential training platform in Clean Energy Power Plants to create Indigenous capacity to operate, maintain, and upkeep clean energy microgrid systems.
The Virtual Clean-Energy Training Platform for First Nations Communities project will develop a new virtual platform using BCIT's experiential learning tools. Through this platform community learners can remotely access, navigate, and control clean energy microgrid environments in real-time, giving users hands-on experience without leaving their community.
Project Lead: Minoo Shariat-Zadeh, SMART