Industry Services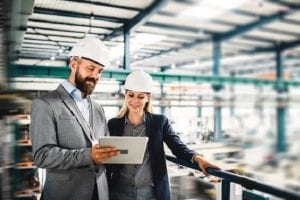 BCIT's Centre for Internet of Things can offer group training to corporations and organizations, locally and beyond. Our training is designed around existing part-time studies courses, which may be delivered as-is, or customized to meet your specific training needs. Training can be delivered daytime or evening, in-person or online, on a schedule and at a location that works for your organization. We are also incorporating virtual platforms into our training solutions to help meet the current health guidelines.
Industry Student Projects
We can also offer expertise from our students, opportunities for internships, practicum or student consulting projects to help you with your businesses needs. Students in full-time Computing programs in BCIT's Computing and Academic Studies undertake two industry projects under the Industry Sponsored Student Project (ISSP) program as part of their diploma and degree requirements. This provides our students with the opportunity to gain real-life, industry experience and gives them the opportunity to be evaluated by potential employers.
If you have a specific industry related needs in the area of Internet of Things, please complete the Project Inquiry form and we will be in touch.
YVR Innovation Hub:
Environmental Monitoring & Analysis Project (EMA)
BCIT's Centre for Internet of Things (IoT) is collaborating with Vancouver airport (YVR) to help build a water monitoring system to collect and analyse water quality in the channels around the YVR airfield. The EMA water monitoring system's purpose is to monitor the quality of water in channels that drain off the airport. Currently these measurements are being performed manually.
These stations will enable higher accuracy of measurements and enhanced sampling rates that will reduce labour costs while improving the quality of the data. The data collected is stored in the cloud and combined with weather and tide data this will provides a complete set of data for monitoring and analytics.
Some of the data sampling collected:  pH balance, conductivity, diffuse oxygen, water temperature, turbidity and Total Distributed Solids (TDS).
Why?
YVR is located on Sea Island with an elevation of 3.05M.  With the rising sea levels, the Fraser River high flood levels and storm surges more accurate data is required to improve modeling and prediction of the water monitoring.
The solution
The collection of quality data 24/7, combined with sensor data installed into weather models, and data analytic simulations will result in improved modeling and prediction of water around YVR.
Metrics
Collaboration
Solving Industry Problems
Helping YVR evaluate innovative solutions
Students work on real industry problems
Experience collaborating with other teams
News
IoT@BCIT
This engaging day long event at BCIT brought together industry and BCIT employees to discuss how IoT will impact the way BCIT can incorporate IoT into life at BCIT. This was a great opportunity for BCIT to collaborate with industry, and obtain a better understanding of the educational needs for future generations wishing to comprehend the growing opportunities in the IoT field.