Innovation for a complex world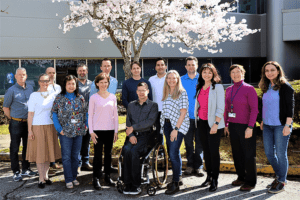 MAKE+ is a group of multidisciplinary researchers focused on product and process development, evaluation, applied research projects, and education.  The MAKE+ sub-group PART (Product and Process Applied Research Team), is the only academic product development group in Canada registered to IS0 13485 (Medical Devices) Quality Management Systems.
BCIT Applied Research is excited to announce that Dr. Jaimie Borisoff has been appointed Director for the MAKE+ research team. With more than ten years of proven research leadership as a Canada Research Chair, Dr. Jaimie Borisoff brings a wealth of knowledge and a fresh perspective.
"Jaimie has all the right attributes to ensure the MAKE+ team will be successful in the future as they have been in the past," said Dr. Kim Dotto, Dean, Applied Research and Centre for Applied Research and Innovation. "Jaimie brings years of collaborative research experience in creating solutions that meet user needs, which makes him a perfect fit for the MAKE+ team."
Projects and Industry
At MAKE+ we can take your ideas to the next level. We are highly skilled in the areas of evaluation, ergonomic assessments, health, consumer, and industrial technology development, automation and electronics.
MAKE+ PROJECTS
INDUSTRY SERVICES
Students and faculty
We also support BCIT students and faculty in the execution of projects and applied research projects and programs.
STUDENT SUPPORT
FACULTY RESEARCH