MAKE+ has an extensive range of product development and evaluation facilities including:
a Full-scale fabrication lab with fabrication technologies that include CNC machining, waterjet and laser cutting, and 3D printing
Motion capture lab with extensive physiological monitoring capabilities
Soft Shop wearables lab with textile fabrication technologies that allow integration of sensors and textiles
Electronics fabrication lab
Simulation facilities for evaluation of prototypes and products with extensive data collection equipment.
Learn more about our labs below.
ALPHA is where basic experimental prototype development activities take place. The space is configured to enable our product development teams to explore and evaluate innovative ideas. This facility also has specialized equipment for conducting applied research as well as fabrication, testing and assembly of analog and digital electronic circuitry.
ALPHA is located in the Centre for Applied Research and Innovation.
APH is a full-scale prototype development laboratory, established through Canadian Foundation for Innovation, the British Columbia Knowledge Development Fund and Western Economic Diversification funding, and industry participation. The facility contains a full range of prototype development equipment including: three sophisticated multi-axis CNC machines, a fused deposition modeling rapid prototyping machine, a laser cutting machine, precision testing equipment, prototyping tools and equipment, and product evaluation and testing equipment.
APH is located in the Centre for Applied Research and Innovation.
The Centre for Rehabilitation Engineering and Technology that Enables (CREATE) is a full partnership between the Neil Squire Foundation and BCIT. CREATE's vision is to support the development of healthy, safe and sustainable communities. The Centre and its prototyping infrastructure is a unique research facility in BC devoted to improving how people, regardless of ability, live, work, and fully participate in our communities. By advancing practise in activities related to the design and use of devices, technologies, products and policies CREATE aims to improve health, function, access or safety.
Expertise
CREATE is part of BCIT's Centre for Applied Research and Innovation (CARI), home of BCIT's three dedicated research groups: MAKE+, NRG and SMART, and supporting labs.
The Neil Squire R&D Group, one of the first in Canada to address the human/computer interfacing issues that affect persons with significant physical disabilities, is also part of the CREATE team. For two decades the Neil Squire R&D Group has applied its technical expertise in the areas of electronics, mechanical, software and human factors engineering to develop a variety of innovative assistive technologies including: robotic appliances, environmental controls, adaptive computer input devices, accessible telecommunication aids and adaptive mechanical fixtures.
Current initiatives under CREATE include:
CREATE is located in the Centre for Applied Research and Innovation.
The Tong Louie Living Lab (TLLL) was developed with the generous support of an endowment from Dr. Tong Louie. The TLLL was developed as a collaboration between SFU and BCIT with a mission to enhance independent living and quality of life among older adults through person-environment fit and the development and evaluation of environmental and technological innovations.
The Living Lab continues to conduct research and training activities that improve the "fit" between older people and their daily living and working environments, by studying people's interaction with devices, assistive technology, other products and environmental features.
The BCIT-based Living Lab structure at the CARI campus has the capacity to develop and test new products. SFU and BCIT teams also collaborate with other research groups, NGOs, and the private sector depending on the research development. In addition to research in a lab-based environment, there are active programs of research (past, present and future), that are conducted in natural or community-based environments, for instance, homes/neighbourhoods of older adults (including homelessness), hospitals that house older adults, supportive/assisted living, long-term care, and other environments.
TLLL collaborations are also pivoting to address issues related to the COVID-19 pandemic that connects environmental adaptation at the person, environment and policy levels. This research is consistent with the TLLL TOR to enhance independence among older adults through person-environment innovations.
The Tong Louie Living Laboratory (TLLL) is located in the Centre for Applied Research and Innovation.
Principal Investigator, BCIT: Dr. Jaimie Borisoff
Principal Investigator, SFU: Dr. Andrew Wister
The BCIT Initiative for Canine Performance and Health collaborates with its partners to improve the safety and welfare of police dogs and handlers, and their communities.
Police dogs are invaluable partners in the fight against organized crime, assisting in drug seizures, and working with Integrated Border Enforcement. Dog and handler teams perform dangerous work to keep communities safe, whether tracking suspects, detecting explosives, or rescuing disaster survivors with Emergency Response Teams.
Projects recognize the demands placed on police dogs, and work to prevent injury and improve rehabilitation through innovative sports medicine-based treatments, and to share results with researchers worldwide. Project benefits include:
Contributing to the fight against organized crime
Contributing to safe communities
Building Canada's reputation as a leader in police dog development
Promoting healthier family dogs
The Vancouver Police Foundation generously contributed $100,000 in 2006 to fund development of a computer model for biomechanics tests. Please join our proud community of supporters.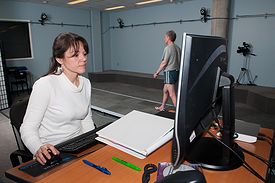 Located in the Centre for Applied Research and Innovation (CARI) Building at BCIT's Burnaby Campus is MAKE+ Motion Capture Lab (MCL). MAKE+ research capabilities have been expanded with the addition of the MCL, equipped with a state-of-the-art 3D motion analysis system that allows the team to record and study detailed movements of man or animal including joint angles and ground reaction forces. The lab is also equipped with technology to capture physiological parameters such as body temperature, muscle movement, heart rate, and oxygen uptake.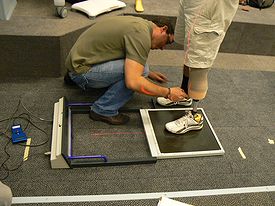 In conjunction with the acquisition of the MCL, our research equipment has undergone a substantial upgrade recently which includes:
High Definition Pan/Tilt/Zoom Robotic cameras and camcorder;
Two Wireless Mics and two Zoom Field Recorders;
New digital collection and storage interface for more efficient data processing and higher quality product;
MacPro G5 workstation and Final Cut Pro Video Editing Suite provides a variety of options including facial masking, split-screen result capabilities, and multiple file type read/write,
Physiological monitoring has been enhanced with the addition of a CoreTemp wireless core temperature monitoring system, allowing us to monitor core temperature for a distance of up to 300 meters,
A new Vicon motion capture system that encompasses high resolution and highly accurate cameras that can capture full body movement down to slight wrist movements at up to 500 frames per second at full frame resolution.
This lab, along with the Dr. Tong Louie Living Lab provides MAKE+ with the ability to perform sophisticated applied research that has been broadened to reach a much larger population base.
Yvette Jones, PhD
Project Leader (Biomechanics, Human Kinetics)
BCIT MAKE+
4355 Mathissi Place
Burnaby, British Columbia
Canada V5G 4S8
Tel: (604) 456-1123
Fax: (778) 329-0314
E-mail: yjones@bcit.ca
The BCIT Rehabilitation Engineering Design Lab (REDLab) aims to develop novel solutions that improve and expand activities of daily living and community participation for people with disabilities. As much as possible, we engage users in our design process in order to create solutions that meet user needs. The REDLab works with a diverse, inter-disciplinary network of researchers (e.g.  Rehabilitation Engineering, Occupational Therapy, Mechanical Engineering, Human Kinetics, and others), as well as industry and community partners.
The REDLab is led by Dr. Jaimie Borisoff, Director MAKE+ and former Tier 2 Canada Research Chair in Rehabilitation Engineering Design.
The BCIT Soft Shop supports the development of products that interact in close proximity with the body, bringing together researchers' skills in electronics, biomechanics, and soft product design.
Wearable technological solutions, assistive devices for mobility, and textile production are just the beginning of the opportunities created in the Soft Shop.
Soft Shop is located in the Centre for Applied Research and Innovation.