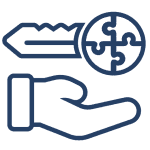 BCIT Employees can request to use AccessAnywhere to access a small number of business applications requiring elevated or administrator priviliges. The preferred method to remotely access all other BCIT systems is by using myVPN.
When independent contractors and affiliates require BCIT network access, their BCIT contractor liaison must submit an AccessAnywhere request (manager approval required). All contractor access to AccessAnywhere has an expiry date of no longer than 12 months. Independent contractors and affiliates cannot use myVPN.
Features:
Specific BCIT systems can be accessed depending on valid business requirements
AccessAnywhere uses a single-tunnel connection with all network traffic routing through the BCIT network
Make a request
Report an issue with AccessAnywhere.
Request to access resources through AccessAnywhere (requires manager approval).
Designed for
Employees, independent contractors, and affiliates
­
Availability
24 hours a day / 7 days a week / 365 days a year
This service may be unavailable during select scheduled maintenance windows.
­
­Support
Contact the IT Service Desk.
Cost
There are no additional costs associated with this service.