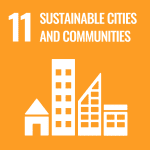 SDG 11 is about making cities and human settlements inclusive, safe, resilient, and sustainable. It highlights the need for inclusive and sustainable urbanization, access to green and public spaces, and transitioning to cleaner modes of transportation.
BCIT is strongly engaged with this call to action. In 2019, we hosted the Ecocity World Summit (EWS) in Vancouver at which the world's first Centre for Ecocities was launched. A leader in the advancement of sustainable cities and lifestyles, it supports applied research, education, and provides the tools, metrics, expert planning and policy advice and other services that cities and their partners need to become genuine ecocities. The Centre is helping build socially just and ecologically sustainable cities and anchors BCIT's global leadership in restructuring cities to reduce their carbon footprints which simultaneously regenerating natural habitat. The 2020 Incredible Impacts Award was presented to the Centre and Ecocity Builders for their work on the Ecocity World Summit.
BCIT faces many of the same complex challenges as a small city, with stresses on transportation, power, and waste management systems. There are several examples of practices relating to SDG 11 across our campuses, including the daylighting of Guichon Creek, and the enhancement of pedestrian, cycling, and car-sharing infrastructure. We collect solar energy on rooftops, use signage to communicate projects that demonstrate sustainability in action, and continue to ensure green spaces on campus.
"There are few more pressing issues today than helping humanity find ways to lighten its ecological footprint and live within the planets ecological carrying capacity. The Centre for Ecocities will contribute applied research, tools and training to help cities, in Canada and around the world, meet this essential challenge."

Kathy Kinloch, Past President, BCIT
Administration & Operations