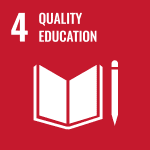 SDG 4 speaks to the responsibility of post-secondary institutions in ensuring inclusive and equitable quality education, and the promotion of lifelong learning opportunities for all. The targets reflected in this SDG are a call for action for higher education.
The BCIT Strategic Plan articulates three Commitments that represent our primary areas of activity and accountability. We are intent on being a people-focused organization that delivers future-proof applied education, amplifying our impact through globally relevant connections.
Key initiatives align with these commitments to create a framework for action and decision making. Interwoven in much of the Strategic Plan, and highlighted in our core values, sustainability is explicit in—and integral to—these initiatives:
Process and system redesign: redesign processes, systems, and structures to enhance our agility and effectiveness and to embed sustainability
Augmented and sustainable environments: cultivate exceptional learning environments and communities through technology and sustainable campus development
New models of collaboration: reinvent how we work with industry and peers to drive economic, social, and environmental prosperity in British Columbia and beyond
Together, these confirm our intention to embed sustainability in our education and applied research activities, across our campus operations and facilities, and in our interactions with stakeholders beyond BCIT.
Future-proof Applied Education
A focus on applied education is what differentiates BCIT from most of our peers. We combine theory and practice in a way that enables our learners to leave BCIT confident and able to have immediate impact in their work. This approach is critical to advancing the state of knowledge in sustainability. We must continue to evolve our content and methodologies to stay ahead of the needs of industry, and we must nurture an environment in which learners and faculty thrive.
In 2017, BCIT signed the Colleges and Institutes Canada (CICan) Indigenous Education Protocol, a document that provides a vision for how colleges and institutes can strive to improve their practices and better serve Indigenous peoples. SDG 10: Reducing Inequalities exemplifies some more ways that BCIT is working towards more accessible and equitable education for all.
Curriculum and Credential Renewal
BCIT offers a range of programs, courses, and educational resources focused on meeting the challenge of sustainability. We match industry partners with student research and capstone projects that provide learners with real-world experience in addressing sustainability challenges. These are a good start, but we must do more. Through working through the Schools, Academic Planning, the Learning and Teaching Centre, and the Education Council, we will renew and develop new offerings that embed and explore sustainability across more of our programs. In partnership with like-minded global peer institutions, we will create new credentials that enable learners to advance their careers through joint programs. We will also continue to promote sustainability-informed educational delivery.
Applied Research
BCIT has an impressive track record in sustainability applied research, driven both by the Schools and by the Centre for Applied Research and Innovation (CARI). These activities seek to create a "solution space" for industry.
Current successes include the Factor Four project, focused on achieving a fourfold (75%) reduction in materials and energy use without compromising building service levels, and the Elevated Lab, designed to educate and train the next generation of students and local professionals in leading- edge green roof, living wall, and green façade technologies.
We will extend our support for such efforts and will identify new areas for investment while working closely with our industry partners. Consistent with BCIT direction, we will embed these activities throughout our education model to strengthen outcomes in student learning and practical application.
Campuses as Living Labs
We face many of the same complex challenges as a small city, with stresses on transportation, power, and waste management systems.
There are several examples of sustainable practice across our campuses, including:
the south campus wetland restoration
the introduction of natural drainage within landscaping installations
the enhancement of pedestrian, cycling, and car-sharing infrastructure
we collect solar energy on rooftops
we use signage to communicate projects that demonstrate sustainability in action
we enable students to safely observe and monitor working equipment, as well as wall assemblies, pipes, and pumps, so that they can see first-hand how the built and natural environment work together
BCIT will strengthen its articulation of our sustainability story through these experiences, striving to find ways to involve students and partners more actively in these living labs.