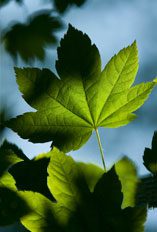 Sustainability is founded on the value of social equity and a recognition of ecological limits to the amount of resources we can use without exceeding nature's capacity.
At BCIT, sustainability means innovation to support the social and economic prosperity of the Province without harming our natural environment.
To measure progress toward sustainability, BCIT will track reduction in its Ecological Footprint, the land necessary to produce the energy and materials used to operate the campuses, and to assimilate the wastes. Our proposed aim is a four-fold reduction in the land and materials we use while maintaining high quality service levels. We have seven aspirational goals to help guide our progress.