We define sustainability as "enabling people to lead socially just lives within ecological limits." While efforts to date at BCIT have focused primarily around the environment, our definition reflects the interdependencies between the environment and society. We are working to reposition sustainability in this broader context throughout our community.
What are the Sustainable Development Goals?
Beyond BCIT, there is widespread attention on sustainability, with increasing global concerns around climate change. The Sustainable Development Goals (SDGs), adopted by United Nations (UN) Member States in 2015, are an urgent call for concerted action. They recognize that ending poverty and creating opportunities for humanity to thrive must go hand-in-hand with strategies that improve health and education, reduce inequality, advance economic development, and restore ecosystems to  tackle climate change and preserve our oceans and forests.
The 2030 Agenda for Sustainable Development outlines a 15-year framework centered around achieving 17 SDGs. Within the 17 goals are 169 associated and interconnected global targets which encompass all factors of sustainable development. From ensuring access to basic human rights such as water, food and education, to the building of sustainable cities, tackling environmental degradation and addressing inequalities, these goals address sustainable development in a balanced and integrated manner. They reflect that economic, social and environmental balance is pertinent to achieving sustainable development, as well as the concept of leaving no individual behind in the process.
At the time of their creation, the SDGs were endorsed by 193 countries, including Canada. This means that 193 nations committed to the integration of these goals into their policies, plans and procedures. Although the Goals were launched at a national level, it is equally important for action to be taken at a community level as well. As global citizens, we all have a role to play and we can collectively work towards a better tomorrow for future generations.
Sustainable Development Goals at BCIT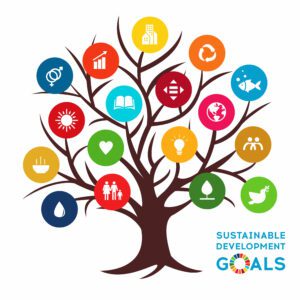 Academic institutions can play a major role in advancing each of the SDGs. They can help shape the future leaders of tomorrow, by giving students the tools they need to be sustainable decision makers. Some examples include:
building a curriculum with integrated social and environmental values,
supporting impact driven research initiatives,
facilitating collaborative and inclusive partnerships, and
spearheading environmentally sound operations.
At BCIT, we are taking steps to assess our contribution towards the SDGs. Following in the steps of the BCIT Student Association (BCITSA), BCIT became a signatory to the Sustainable Development Goals (SDG) Accord in 2022. We are using the Sustainability Tracking, Assessment & Rating System (STARS) framework to help measure and report on contributions towards the SDGs.
BCIT faculty, staff & students are contributing to the SDGs through their everyday actions
This section contains just a few of the many inspirational stories about how our community is making a difference. Select the icons below to learn more about each SDG and how you can make a difference.
Do you have a story or information to share? We'd love to hear about it.
The site is a work in progress and will be regularly updated. Please come back and explore.
Contact us