BCIT staff and students are helping to create a sustainable future through their everyday actions. This section contains just a few of the many inspirational stories about how our community is making a difference.
If you have a story to share, we'd love to hear about it. Contact the Sustainability Office.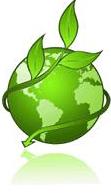 Higher education has a role to play in understanding environmental issues, educating the community about these issues, and adopting practices that are globally responsible. Information Technology (IT) is generally the third largest consumer of energy in an organization. This positions IT operations as both a major consumer of energy as well as a major enabler of Institute activities that might be involved in responding to climate change in a positive way. Reducing the ecological footprint of information technology is the focus of multiple departmental initiatives.
ITS sustainability initiatives currently underway
Meetings are done on-line in ITS – no paper copies of agendas or minutes.
ITS information flyers have been reduced to rack cards or book marks with website references listed for further information.
Magazine and newspaper subscriptions have been reviewed and greatly reduced.
Invoices are scanned and filed electronically – paper filing cabinets are disappearing.
Email taglines have been added asking staff to consider the environment before printing the email.
Computers are on an evergreen lease program and returned to the vendor for refurbishing and redistribution every 4 years. Servers and Network equipment will also be on a lease program in the near future.
Recycling bins in ITS collect paper, and there are containers to collect plastic bottles and cans. Profits are used for our Christmas Families of Choice Campaign.
PC Power saving software is being researched with a plan for mass deployment in labs and staff/faculty areas.
Printer Energy Consumption and Printed Paper Consumption is being reviewed.
Purchasing/Selection standards are being revised
Environmental Footprint Data is being collected and analyzed.
Energy Control and Monitoring Software is being researched.
ITS is encouraging a reduction in the number of IT devices per user at BCIT.
ITS is in the process of expanding the awareness of our technology green initiative to our clients departments.
Did you know
E-Waste is the term for electronic products nearing the end of its useful life. This includes computers, laptops, phones, televisions, stereos, copies, printers etc. Many of these products can be reused, refurbished or recycled. Unfortunately, electronic discards [PDF, 233Kb] is one of the fastest growing segments of our nation's waste stream. It seems that computers are obsolete before they even get out of the box.
On average office workers print 12,000 sheets per annum, with 44% shown to be unnecessary.
53% of storage has not been accessed in the last 90 days. The cost of supporting a tera byte of on-line storage is more than the purchase price of a tera byte of storage
IT has the same carbon foot print as the aviation industry!
The Windows Vista operating system features significant changes to power management.
Gartner estimates that globally consumers and enterprises dispose of or replace around half a million PCs, 22,000 servers and about 1.5 million mobile phones – every single day of the year!
10,000 PCs operating 24/7 consume $1.4 m per annum in electricity.
Project summary
Dr. Mark Giltrow incorporated sustainability into his course on leadership and organizational change.  Students will be better prepared for their careers and the class projects benefit BCIT.
Project description
In the fall of 2007, Dr. Mark Giltrow from the School of Business decided to incorporate sustainability into a course designed to enhance the capacity of students to sustain the demands of leadership in a changing environment.  Giltrow was motivated by knowing that sustainability issues will create significant changes that today's BCIT students will face in their future careers.
"By the year 2050 when many of today's students will be in their 60's, greenhouse gases are projected to be close to 500 ppm, up from 280 ppm from the industrial revolution.  This is the point of 'no return' and will create many new and complex sustainability challenges", says Giltrow.  While many technical issues have a 'right' answer, there are few easy or clear answers to sustainability challenges because they involve people's values and perceptions.  According to Giltrow, this calls for 'adaptive' leaders with strong people skills to complement their technical skills.
While the learning objectives of Giltrow's course didn't specifically mention sustainability, he recognized the logical connection and found an appropriate way to bring it in.  He asked students to focus their major team change project on a sustainability challenge, and ideally one that BCIT was facing.  In small teams, his students identified a sustainability challenge, described its current state and then outlined the challenges and opportunities of changing towards a more sustainable state for a particular market or audience.  The final requirement was to outline an implementation plan.
Results
Giltrow's students developed recommendations and implementation plans for a range of sustainability changes, including:
Improving upon BCIT's coffee ground composting in order to divert landfill waste and the costs associated with transportation and tipping fees;
Recycling wood products to make furniture in order the reduce costs and the demand for virgin wood fibre;
Putting a transit U-Pass system into place in order to reduce the greenhouse gas emissions from student driving and to save student's money
An initiative to raise funds for addressing hunger through text messaging.
Giltrow hopes that students will present their findings at BCIT's next EcoFair and that some of the ideas will be implemented at BCIT by students, faculty and/or staff.  He also hopes that students will help business and organizations address their sustainability challenges in their careers ahead.  Based on the success of this first effort, Giltrow plans to incorporate sustainability into this course again and also bring it into another course he teaches on Canadian Business.
Lessons learned
While it is important to fulfill course learning objectives, there is a lot 'wiggle room' to incorporate sustainability because it is connected to almost every facet of what BCIT teaches.
Project summary
In 2007, the School of Construction and Environment started a green office challenge to test greening strategies and serve as a model for other Departments.
Project description
The Green Office Challenge grew from the initiative and commitment of a volunteer member of BCIT's GreenTeam, which is dedicated to advancing sustainability across the campus.  Marita Luk, Business Development Manager for the Dean's office of the SOCE, was turned on to sustainability after going to a conference in 2006.  Although intimidated by some of the fancy words and high-level thinking, she left the conference realizing that she could support practical changes for sustainability.
Marita decided a Green Office Challenge for her office comprised of 16 people could be an excellent way to 'walk the talk' and help model sustainable changes for the rest of BCIT.  The first step was to create a green office checklist.  Internet research produced too many greening ideas, so Marita chose 15 that were fun and relatively easy to do – and that would result in visible 'quick wins'.   "Making sustainability fun and easy is a good place to start," says Luk, "Every step makes a difference and you build people's confidence for harder changes in the future."
Once the list was complete, Luk sent out a green office tip by email every two weeks with the help of her receptionist to follow up.  The first tip was to change to double-sided printing and copying, and only print or copy when necessary.  In order to set an example, Luk made the change first herself and then provided step-by-step instructions about how to change computer settings.  Systems were set up to monitor the amount of paper copied and printed in order to track progress.
Subsequent tips addressed other strategies to save paper and also ways to save energy.  Turning off lights when not used during the day and on evenings and weekends was one tip.  Another was to turn off computers and monitors at the end of the day or when not in use for long durations during the day.  Because habits take on average 30 days to change, Luk provided gentle reminders to people in her office to help cement the new practices.
Results
Some monitoring systems for tracking paper savings have been established and Luk plans to put others into place for energy savings.  Results anticipated based on the tips include:
Duplex printing/copying can save up to 50% of paper, requiring half the number of trees;
Turning off lights, computer and monitors when not in use can reduce associated energy usage by more than 50% and up to 60%.
Luk hopes to continue and expand efforts within her office, while starting efforts in the next six months to mentor other departments interested in starting their own green office challenges.
Lessons learned
Keep communications about greening tips short and easy-to-read.
Pace your green office efforts with your other work demands to avoid burn-out and allow time for people to adjust and make changes.
Show appreciation and give recognition for positive changes, even the littlest ones.
In 2007, Danny Catt used online learning technology to allow thousands of people to follow his global travels about humanity's relationship with nature, and inspire actions to save our planet. Many students followed Danny's voyage. Danny's Fish, Wildlife and Recreation students also undertook research projects that dealt with British Columbia's connections with South America and Antarctica, which were displayed on his interactive website.
Project summary
Danny Catt used on-line learning technology to allow thousands of people to follow his global travels about humanity's relationship with nature and inspire actions to save our planet.
Project description
BCIT instructor, conservationist and photographer Danny Catt has a passion for experiential learning. "The more people can explore and learn about how they are personally connected to the natural world across the globe," Catt says 'the more they will be inspired to change their behavior and support actions to save our planet."
To support this passion, Catt applied for on-line learning support from BCIT's Learning and Teaching Centre for his second sustainability sabbatical through South America and Antarctica. With the assistance of Centre staff, his students and other conservationists, an interactive learning CattTrax2 website was developed.
Dr. Catt's Fish, Wildlife and Recreation students undertook research projects that dealt with British Columbia's connections with South America and Antarctica, which were interactively displayed on his website. Other conservationists wrote about global connections in areas such as international bird migration and global warming. As a result, learners could navigate the CattTrax2 regions on-line and learn about their landscape and habitat, cultural values, recreational opportunities and environmental issues that impact conservation and sustainability.
Catt investigated these issues in greater detail and from different perspectives during his journey and wrote about them through the use of an on-line blog, allowing learners to comment and interact with him. He also used his photographic skills to add images to the website, and whenever possible captured sound bites to develop YouTube video clips. On-line quizzes developed by Catt's students allowed learners to test their knowledge.
The CattTrax2 project team also supported real-time teaching using Elluminate Live. During his journey, Catt gave on-line lectures for his FWR students and a host of others including Rotary, the Calgary Zoo Speakers Series, Simon Fraser University and the BCIT 2007 Eco-Fair.
Results
There were over 17,000 hits to the CattTrax2 website coming from around 70 countries.
Over 1,000 e-Bus home-schooled K to 12 students throughout BC were "Catt Trackers" and followed Dr. Catt's journey; some students entered a global connections essay contest.
Cruise ship audiences listened to Catt's "Sustainability Africa" journey on their vacation and Holland America was encouraged to consider 'carbon neutral' actions.
Others are now adopting on-line teaching (e.g. teachers in Ethiopia, Ghana and Uganda will now give Elluminate Live presentations for their students).
All of these learners and more now have a better understanding that the air they breathe, the clothes they wear, the food they eat, and the resources used for everything from cell phones to the kitchen sink are all dependent on an increasingly fragile natural world and the people and cultures that inhabit them. This awareness and understanding is the critical foundation for changes in behavior that support a more sustainable future.
Lessons learned
"The world is your oyster," says Catt, "so be creative and find ways to share as you learn. Elluminate Live is a simple technology to use because the BCIT Learning and Teaching Centre provide really great support!"
Project summary
BCIT's Human Resources Department has implemented a new digital hiring process that has resulted in major time and cost savings, and huge reductions in paper usage.
Project description
Early in 2006, BCIT's Human Resources Department began an initiative to make their business processes more efficient in order to save time, money and improve environmental performance. They decided to undertake a major project to convert their hiring processes from a paper-based system to digital.
The first step was to develop a project charter with a vision and business plan. Stakeholders and customers were then consulted, resulting in changes to improve efficiency and user-friendliness. Finally, a project flow chart was created and implementation was begun.
Two interrelated projects were instigated – E-Hire and HirePath. Through e-Hire, staffing reports and placement forms are all digitized. Applicants fill out an on-line form and attach their resume. HirePath then takes over by digitally collecting the applications, which are then available to selection committee members on-line. Once hired, people receive an electronic letter and all subsequent forms can be viewed by themselves and other eligible BCIT staff on-line.
In the past, all these steps were completed using paper! One assistant position might receive between 25 and 100 applicants. Mari Komatsu, a Recruitment Coordinator, would spend up to three quarters of day making up to six copies of every application and distributing them. As Mari says, "It would create a foot high pile of paper!" Komatsu would process about 300 competitions a year, resulting in 300 feet of paper – equivalent to a 25-storey high-rise building – saved by going digital.
Results
E-Hire and HirePath have created tremendous efficiencies in the hiring process. For example, it now takes seconds to do a re-hire versus filling out multiple forms. Hiring approvals can be tracked on-line, saving multiple phone calls and office visits across campus.
It has also resulted in very significant reductions in paper usage, reducing the demand for trees and saving building space needed for storing paper files. For every BCIT employee there would be about 10 sheets of paper on file, including a 'green sheet' with four sheets of carbon paper. With a total of approximately 4,000 regular and auxiliary employees, that's about 40,000 sheets of paper! So, E-Hire will save the equivalent of one hundred 33-storey high-rise buildings worth of paper.
Human Resources next want to put all BCIT student positions into the E-Hire process and put more paper-based tracking processes on-line. They are also inspired to lead sustainability efforts in other areas such as energy and water savings.
Lessons learned
Remind people about the benefits from making changes (e.g. save money, save time, easier to use etc.)
Engage people early on to seek their input, and keep consulting and communicating with them
Take the time to walk people through and explain how to do something new
Project summary
In 2003, BCIT students, faculty and staff collaborated to design and build the Power Tower which provides a practical demonstration project for research and teaching in solar energy technology.
Project description
In 1999, the Photovoltaic Energy Applied Research Lab (PEARL) was established at BCIT's Burnaby Campus with support from the Canadian Foundation for Innovation.  Spearheaded by Dr. Lou Stamenic together with Donald Yen, a Photovoltaic Power Tower was proposed in 2003 to serve as a world-class training, research and demonstration project in emerging photovoltaic (PV) technology.
The photovoltaic industry had been expanding throughout the 1990s and a 10-15% growth in employment was expected in the new millennium.  Lou and Donald believed that the Tower would position BCIT as a leader in PV education by providing a practical training tool for BCIT construction, engineering and design students to learn about emerging photovoltaic technologies.  The Tower could also provide PEARL with the means to study the development of new designs for building-integrated photovoltaics and related devices, and to explore the success of commercial applications.
The Power Tower was a collaborative effort that involved over 60 people, including students, faculty and administration.  Together, they designed the Power Tower, undertook the wood and steel construction, electrical wiring, glazing and painting.  The final result was a rectangular tower, approximately 15m tall, on a 2m x 2m base. It has photovoltaic modules mounted on its four sides and contains the appropriate electronics so that it can function as a stand-alone or grid-connected electrical power generator.
Results
The Power Tower has produced many positive outcomes:
Prepared BCIT students for a growing future solar industry by serving as a teaching aid for photovoltaics level 1 and 2 courses, and showing wiring and connections to fourth year journeymen electrical students.
Practical research to test: how different types of inverters perform under real conditions; the performance of solar cells that face north and reflect sunlight from clouds and buildings; and various ways of increasing the energy output of photovoltaics.
Contributed to the development of a Building Integrated Photovoltaic (BIPV) system for the CMHC Home 2000 (a healthy/flex Demonstration Home Project) that was exhibited at the Vancouver Home Show, and later located at BCIT's Burnaby Campus as a fully roof-integrated system.  BIPV's can offset 3.3 tons of CO2 per year, and even more if they're installed in provinces such as Alberta and Ontario where electricity is generated by less clean means.
The PEARL is in the process of being redesigned and moved to the School of Construction & Environment, although BCIT's Technology Centre will continue to provide technical expertise.  This will allow BCIT to continue to manufacture, simulated or test photovoltaics, providing British Columbia industry with a unique opportunity to participate in a rapidly growing worldwide market.
Lessons learned
If you have someone who believes in something enough, you can get people working together.  Passion and persistence can overcome many perceived barriers and result in great things.