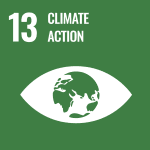 Post-secondary institutions, in general, are positioned well to advance efforts to address sustainability challenges through education, research, and translation to practice across their campuses as microcosms of society. In British Columbia, contributions to sustainability are part of the government mandate to the post-secondary education sector, which specifically requests that institutions align their operations with provincial climate strategy objectives around greenhouse gas reduction, renewable energy, and supporting technological innovation.
Our leadership team is unequivocal in its pursuit of sustainability. We recognize that inequitable resource consumption is at the heart of climate change and is an urgent global challenge. Although climate action and adaptation will remain at the forefront of our academic, operational, and partnership efforts, we will also strive to uncover the deeper systemic causes and to address other sustainability challenges. Through shaping the knowledge and actions of our students and partners in the workplace, we aim to inspire and mobilize change across industry and society, underpinned by best practices across our campuses.
What can you do?
Use your voice: Climate Action target 13.2 explicitly mentions the integration of climate change measures into national policies, strategies and planning. Contacting your local representative, voting and signing petitions are all examples of ways to encourage climate change action in your community.
Use alternative forms of transportation: That's right – choose public transportation, walking, or your bike as a form of getting around. BCIT also has partnerships with car-sharing platforms such as Evo Car Share. Did you also know that if you are a full-time BCIT student, you may be eligible for discounted transit pass? See U-Pass BC for more information.
Plant a tree: Sign up for community tree planting activities and events – planting a tree is a great way to capture carbon emissions.
Switch to LED lighting: LED Light bulbs can use upwards of 75% less energy, and last up to 10 times longer than regular light bulbs. Make the switch!
Learn more about SDG 13