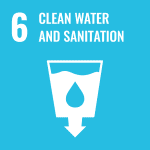 The decade 2018 – 2028 has been declared by the United Nations as the Water Action Decade – averting a global water crisis. The aim is to "bring a greater focus to sustainable development and a risk-informed integrated management of water resources for the achievement of social, economic and environmental objectives."
SDG 6 not only addresses the issues relating to drinking water, sanitation and hygiene, but also the quality and sustainability of water resources worldwide. SDG 6 cuts across sectors and regions and has interlinkages to all other 16 SDGs, of which a majority are mutually reinforcing. Other direct references to water are found in:
SDG 14: Life Below Water, calling for conservation and sustainable use the oceans, seas and marine resources
SDG 15: Life on Land, including the protection of freshwater ecosystems and combating of desertification
SDG 3: Good Health and Well-being, through ensuring healthy lives for all and combating of water-borne diseases
SDG 11: Sustainable Cities and Communities, reducing the impact of water-related disasters (Target 11.5)
Learn more about the Water Action Decade in the video below:
Scroll down to see highlights of how BCIT is contributing to SDG 6.
Administration & Operations