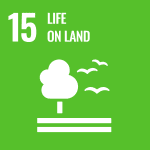 SDG 15 seeks to protect, restore and promote the conservation and sustainable use of terrestrial, inland freshwater and mountain ecosystems. Healthy ecosystems provide many and varied services and benefits to humans.
Aligned with the timeline for the SDGs, the UN Decade on Ecosystem Restoration (2021-2030) is a global mission to restore and repair our damaged habitats. It is a rallying call for the protection and revival of ecosystems all around the world, for the benefit of nature and people. It aims to halt the degradation of ecosystems, and restore them to achieve global goals.
Only with healthy ecosystems can we enhance people's livelihoods, stop the collapse of biodiversity and adapt to a changing climate.
Administration & Operations