Overview
Please note that the Mineral Exploration and Mining Technology Program and the Mining and Mineral Resource Engineering Program are currently undergoing program reviews that may lead to curriculum changes starting Fall 2024.
The Bachelor of Engineering in Mining and Mineral Resource Engineering program is designed to allow well qualified students who successfully complete the first year of the Mineral Exploration and Mining Technology diploma program to apply to complete an engineering degree through three additional years of full-time study.
The vision of the program is to provide students with a flexible educational path for successful careers in the mineral resource industry both in Canada and worldwide. As such the degree will have a strong practical focus built upon a broad foundation of engineering theory, analysis and design. Throughout this program, students will be challenged to develop their critical thinking skills and exercise their creative abilities.
The mineral resource industry is a cornerstone of many communities throughout BC and Canada and it is a major contributor to our economy. Canada is recognized as a world leader in mineral exploration and mining, and our expertise is exported around the world to help discover, develop, and operate mines.
As one of the largest users of high-technology equipment and applications, the mining industry requires professionals who have the skills and knowledge necessary to keep up with these advances. Virtually all technical jobs within the fields of mining and mineral exploration require a post-secondary education. If you are interested in a challenging and varied work environment, in the office, lab or field, and like solving engineering problems, this program will appeal to you. Take the Mining and Mineral Resource Engineering program, the only program of its kind in Western Canada.
Check out our virtual info session for more information
A pre-recorded online Info Session is available for viewing, along with the presentation slides.
Spend a day with us
Want to learn more about our program before you apply? Come spend a day with us. You'll meet students and instructors, and get a hands-on feel for what the program is about.
Entrance Requirements
If you have questions regarding the entrance requirements or the application process, visit Admission & Registration or contact Student Coordinator Reza Tafti, at Reza_Tafti@bcit.ca. If you want to discuss the program in more detail, contact Shawna Waberi, Program Head at swaberi@bcit.ca. or call 604-454-2217.
Costs & Supplies
The information below will help you determine the cost of taking the program and assist you in developing a budget for your study.
Mining field courses and trips
In addition to tuition fees, books, supplies and equipment, students will incur expenses for field trips and field courses.
The Mineral Exploration and Mining department runs a number of field trips and courses to various mining and geological sites to aid and supplement classroom learning. While subsidized, these trips and courses require some financial contribution from the students. The values below do not include food, which is typically the student's responsibility on field trips.  Please note that trips are optional, but courses are not. Values are subject to change at the department's discretion.
1st Year: No fee
2nd Year: $250 course fee (MINE 4108), and a separate $250 trip fee
3rd Year: $500 course fee (MINE 6020)
4th Year: Student led and supported field trip (cost unknown, trip dependent)
Program Details
What is the workload like?
Our engineering program contains a significant workload and contact hours with your instructors. There is an average of 32 hours per week of class time in the first year and 25 hours per week in the remaining three years. You should expect to spend an additional 25 hours per week on your own, completing assignments, preparing for labs, working on projects and studying.
Explore the courses and classes you will be taking
The Mining and Mineral Resource Engineering program includes courses on geology, surface and underground mining, mineral exploration, mineral processing, soil and rock mechanics, resource estimation, sustainability, mine reclamation, fluid mechanics and engineering economics.
Your learning environment will be a blend of lectures, labs, tutorials and field exercises. Our labs are well equipped to support your learning needs. In addition to time spent in the classroom, there are a number of day long and multi-day field trips to examine areas of geological interest (significance) and active mining operations. Field courses are also run in mineral exploration.
In the final year you will be required to complete, with guidance from faculty members, a year-long engineering project to design and evaluate a mining project. This capstone project will bring together a number of subject areas studied previously and acquaint you with "real world" engineering problems. In preceding years some of your courses will contain "course-based" projects to prepare you for your final endeavour.
View the program matrix to find a term by term listing of the courses. Click on the title for a quick "drop-down" course description or on the link for a more complete course outline.
Faculty, Advisors & Staff
You have a great team of committed faculty, staff and industry advisors supporting your learning!
BCIT instructor passion for teaching helps enable students to succeed in their BCIT studies.
Our faculty instructors are highly qualified geologists, engineers and applied scientists who have many years of teaching experience. Many of them are Professional Geologists or Engineers, have worked in industry and continue to maintain close ties with industry. Faculty office locations and phone numbers are available from the BCIT Directory.
Mining program faculty
Shawna Waberi, MSc, PGeo
Geology Instructor and Academic Program Head 
Geology, Mineral Deposits, Computer Applications, Field school and tours
E: swaberi@bcit.ca
Gheorghe Bonci, PhD, PEng
Mining Instructor
Surface Mining, Drilling, Explosives and Fragmentation, Mine Computer Application and Mine Projects
E: gheorghe_bonci@bcit.ca
Elspeth Barnes, PhD
Instructor and Program Coordinator
Geology, Mineralogy, Exploration and Field schools
E: ebarnes6@bcit.ca
Reza Tafti, MSC, PhD
Geology Instructor and Part–time Studies Coordinator
Geology, Mineralogy, Structural Geology
E: reza_tafti@bcit.ca
Mory Ghomshei, PhD, PEng
Mining Instructor
Underground Mining, Mine Economics and Mine Projects
E: mmohieddinghomshei@bcit.ca
Russell Hartlaub, PhD, PGeo
Geology Instructor
Geology, Mine & Exploration Safety, Field schools and Mine tours
E: russell_hartlaub@bcit.ca
William Oching, BEng, MBA, PEng
Mining Instructor
Underground Mining, Mine Computer Applications and Mine Projects
E: woching@bcit.ca
Staff
Mining
Program Assistant
E: mshehadeh@bcit.ca
Advisory committee
Tom Broddy, Consultant (Chair)
Alex Doll, AGD Consulting, Metallurgical Consultant
Bruce Bried*, Mining Consultant
James Scott, Consultant, Independent Consultant
Lana Eagle, Consultant, Consultant
Martin Telford, Wheaton Precious Metals Corporation, Director of Engineering
Megan Gent*, Stantec, Mining EIT
Robert Stevens, AMEBC
Jason Courneyea,  MineralsEd, Mineral Resources Education Program of BC
Masaki Miyoshi, Teck Resources Ltd.
* Denotes an Alumnus/Alumna of the BCIT Program.
Part-time Studies
Delivery Mode: ONLINE
Your education is our priority and we will continue to deliver the applied instruction, collaborative experience, and industry connections that you expect from BCIT.
Are you interested in geology, mineral exploration and the mining industry? We offer a variety of continuing education courses for entry-level to professional workers.
Each of the links below will offer a brief course description or give you the opportunity to register for a course.
Regularly offered courses
MINE 1100 – Introduction to the Minerals Industry
ONLINE COURSE – Introduces students to the wide scope of the minerals industry and prepares them for further courses in mining. The course covers the breadth of the industry from mineral exploration through to processing and marketing of mining products. The history of mining is covered from early ages through to modern times. Considerations regarding the preservation of the natural environment and the concept of sustainable development are introduced.
Dates: normally offered once per term (Fall, Winter, Spring/Summer).
MINE 1101 – Physical Geology
ONLINE COURSE – Presents an overview of the processes and materials that form and shape the planet Earth. Labs include rock and mineral description, examination of geological maps and structures, and study of geological processes. This course will appeal to aspiring earth science students as well as non-technical mineral industry personnel looking to better understand geologic fundamentals. For students in other programs, this course can be taken as an elective science credit.
Dates: normally offered once per term (Fall, Winter, and Spring/Summer).
MINE 1017 – Mineral Exploration Field Safety
ONLINE COURSE – Based around AMEBC's Field Safety guidelines, this course provides an overview of the key safety issues encountered in the mineral exploration environment and is designed for both new field workers and as a refresher for seasoned explorationists.
Dates: continuous enrollment.
Check information on registration for part-time and online courses or contact Mining Program Assistant, at 604-432-8683.
For information on course content and registration, please contact Reza Tafti, Part-time Studies Coordinator.
Frequently Asked Questions
Thinking of continuing your education into our Mining and Mineral Resource Engineering Bachelor of Engineering Program?
Our faculty and staff have compiled a list of the most frequently asked questions and their answers. If you have further enquirers please contact the program head.
Entrance into the Program
About the Program Content
Accreditation and Employment
Can past graduates of the technology diploma apply to the degree program and receive credit for the courses they took in the diploma?
If you have completed the two-year Mineral Exploration and Mining Technology diploma program (or earlier versions of the diploma) you may be eligible to apply as a Direct Entry student for levels 3, 4 or 5 of the degree program. In order to do so you will need to meet eligibility criteria:
It is recommended that technology diploma graduates review the Direct Entry conditions and requirements under Advance Placement on the Program Entry webpage or contact the Program Head directly.
Will this be a competitive entry situation?
There may be a limited number of seats available for direct entry students to levels 4 or 5 of the program. If the number of applications exceeds available seats, BCIT will select those applicants deemed to have the best opportunity for success.
Is there a recency restriction for past technology diploma graduates?
Currently there is five years recency requirement for graduates of the diploma program. However, students who have been out of full-time post-secondary studies for some time might wish to consider taking a refresher higher math course at the same time as completing the make-up courses from levels 3 & 4.
I am currently enrolled in a mining engineering/geological engineering degree program at another institute. May I apply for advanced placement into the degree program?
You may be eligible for Advanced Placement. It is recommended that those interested in transferring into the BCIT Degree program review the conditions and requirements under Advance Placement on the degree program website or contact the Program Head directly.
I have a diploma credential from another Canadian Institute of Technology. Would I be able to receive transfer credit for the courses I took and how can I apply for advanced placement into the degree program?
Please see the answer to the question above.
Is Financial Aid available for this Program?
Yes, a variety of types of financial aid are available to Engineering Program students, including entrance awards, bursaries, student loans and academic awards.
What is the length of the degree program and how much will it cost?
The degree program is a full-time four year program at the BCIT Burnaby campus. There is one year common with the diploma of technology followed by three additional years of degree program study. Please see the Fees, Payments and Refunds section of the website for information on full-time tuition fees. In addition students should budget between $1200 – $1700/year for books, supplies and tours.
Is it possible to complete the degree program over an extended time period beyond the 4 year schedule?
Students do have the option to leave the program for a year or two for personal reasons or for a work program. On return they must apply for re-admission into the program.  Currently the time limit for completion of the degree program is 7 years.
Does the degree program have a co-op option?
Currently the degree program does not offer a formalized work co-op option. Students who wish to pursue a work term, may temporarily leave the program for a year and return the following year to continue their studies.
If a student is accepted into the engineering program will they be awarded a Diploma of Technology after successful completion of second year?
No. Students in the Degree stream won't receive a Diploma of Technology at the end of year 2. Degree students will not take some courses required for graduation from the diploma program. For degree stream students to receive a diploma they will need to take a set of courses from year two of the diploma program.
Will the students in the engineering degree share any common courses with the diploma students in year two?
Yes. For degree students in level 3 all courses except one math course are common with the diploma students. In level 4 there are six common courses with the diploma students.
What types of courses can we expect in years three and four?
Courses in these years will be specialized courses in subjects such as; advanced geology, mineral exploration, resource estimation, mining engineering, mineral economics, Mine reclamation and mine management. A description of all degree courses is available on the website.
Will there be mine tour and field school opportunities in years three and four?
Yes, mine and geology tours will form an important part of the educational experience in years three and four. It is intended to have at least one organized tour during these two years and students in fourth year will be encouraged to organize their own tour. Field schools will form part of the formal coursework.
Will we have to pay for the mine tours and field trips?
Some of the cost for mine tours will be covered by funding from endowment funds. For the first year geology trip and local mine tour there is a $100 commitment fee and for the second year international mine tour there is a $250 commitment fee. A similar fee will be charged for mine tours in years three and four. Students are expected to cover their food costs. Costs for field trips that are integral to courses will be covered by the program.
What kind of degree will I receive when I complete the program?
A Bachelor of Engineering in Mining and Mineral Resource Engineering.
Is this an accredited program?
The Mining and Mineral Resource Engineering program is accredited by Engineers Canada. Graduates of the degree will be eligible to be registered with Engineers and Geoscientists of British Columbia (EGBC) as an Engineer-in-Training (EIT).
What will be the role for an engineer with this degree in the field?
The aim of this degree program is to graduate qualified engineers who will take a practical and leading role in the discovery, evaluation and development of mineral resource projects as well as in the operation, management and remediation of operating mines. The program has a strong practical focus built upon a broad foundation of engineering theory, analysis and design and will provide graduates with the skills and knowledge for a role as an engineer on both exploration projects and at operating mines.
Will I be able to pursue post-graduate studies after completing this degree?
There are currently no post-graduate programs in mining offered at BCIT. However, it may be possible to apply to universities that offer Master's and Doctoral programs once you have completed the degree program and obtained your credential.
What type of job might I get?
Graduates of the program will be qualified for a variety of positions including:
On Mining Operations:

Mine planning and mine design
Drilling & Blasting
Ground control
Front line supervision
Safety and O/H
Mine management
Reclamation and environmental control
On Mineral Exploration Programs:

Core logging and QA/QC
Resource modelling
Project design and management (with supervision)
In Service and support companies:

Explosives companies
Computer software companies
Engineering and environmental consulting firms
Investor relations with exploration and mining companies
Field School
The mineral exploration field school is an eight day field course that is part of the two-year Technology diploma and four year degree programs. It introduces students to a wide range of geological and mineral exploration field techniques. These techniques include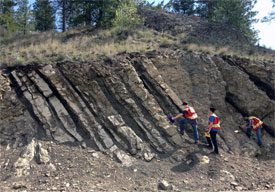 June 2015 – Students examining exposed rock face near BCIT's Field School, Oliver, B.C.
Basic field methods: compass use, map orientation, field notes, pace and compass, working with varied scales and keeping located in the field.
Geological field methods: strike and dip, sample collection, field description of rocks, minerals and formations, map making, field sketches, and preparing field cross-sections.
Exploration methods: prospecting, grids and grid mapping, tracing zones of mineralization, trenching, soil sampling, geophysics, exploration sampling, identification of mineralization, report preparation.
The school takes place in the spring in and around Oliver in the Okanagan Valley, British Columbia. The weather is typically dry with daytime temperatures ranging from the low teens to low thirties (Celsius).
The field school course involves visiting various sites for half-day exercises, followed by a 3-day mapping project in the historic Fairview Mining camp.
Please contact Mining Program Assistant, at 604-432-8683, if you have any further questions regarding the camp.
Contact Us
Questions or comments?
Subscribe
Sign up to receive updates, invitations to events, and information about BCIT and your program.
We promise not to spam you, we won't share your personal information, and you can unsubscribe at any time.
Programs and courses are subject to change without notice.