Build your mining career on a rock-solid base… Go anywhere!
BCIT offers a great range of credentials and career paths in the exciting field of mineral exploration and mining engineering. Students have the flexibility of preparing for careers as mineral exploration and mining technologists or as mining and mineral resource engineers.
Our two year Mineral Exploration and Mining technology program provides a path to registration as a Technologist. Our four year accredited Mining and Mineral Resource Engineering degree program builds on BCIT's 50-year track record of offering the Mineral Exploration and Mining Diploma as well as industry relevant engineering and trades programs and provides a path to designation as a Professional Engineer.
No matter which career path you choose, your education at BCIT will focus on the practical aspects of technology and engineering. Skills gained in these programs will help you to solve a wide range of technical problems in diverse mineral industry settings.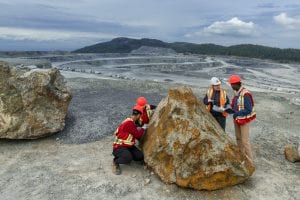 The programs
All full-time students begin with a common first year of studies. In the first year you will learn theoretical and practical aspects of:
Physical Geology & Mineralogy
Surface Mining
Mineral exploration and mine safety
Computing and CAD (Computer assisted design)
Surveying
Math, Physics and Chemistry
Entrance requirements for the common first year are listed in the 'program entry' page for the Mineral Exploration and Mining Technology program.
After the successful completion of the common first year, you choose to continue in either the Technology Diploma or the Engineering Degree path.
The Technology Diploma path requires one additional year of study. Graduates of the diploma course are eligible to apply for registration with the Applied Science and Technologists and Technicians of BC (ASTTBC).
The program focuses on geology, mining methods, exploration technology, surveying, and computer applications for mining operations and mineral exploration. Students learn hands-on science and engineering skills, and complete an industry-standard report during the second year of the full-time program.
The Engineering Degree path requires three additional years of study. The Bachelor of Engineering program is approved as a baccalaureate degree by the B.C. Ministry of Advanced Education and is nationally accredited by Engineers Canada and provides a path to registration as a Professional Engineer (P.Eng.) with the Association of Professional Engineers and Geoscientists of BC (APEGBC).
Focusing on advanced mineral exploration and resource estimation, mine design and operation, and environmental practice and sustainability the Bachelor of Engineering degree prepares graduates:
to take a leading role in the discovery, evaluation, development, operation and remediation of mineral resource projects across BC, Canada and around the world.
for employment in both the exploration and mining sectors of the minerals industry and
to become a Professional Engineer and Qualified Person (QP).