Overview
The Mineral Exploration and Mining Technology program focuses on geology, mining methods, exploration technology, surveying, and computer applications for mining operations and mineral explorations. Students learn hands-on science and engineering skills, and complete an industry-standard report during the second year of the full-time program.
We also offer a variety of part-time studies courses.
Mining is a cornerstone industry of many communities throughout BC and Canada and it is a major contributor to our economy. Canada is recognized as a world leader in mineral exploration and mining, and our expertise is exported around the world to help discover, develop, and operate mines.
As one of the largest users of high-technology equipment and applications, the mining industry requires practitioners who have the skills necessary to keep up with these advances. Virtually all technical jobs within mining and mineral exploration, including geology, engineering, mineral processing, environmental assessment and surveying, require post-secondary education.
If you are interested in a varied work environment, in the office, lab or field, and like solving scientific problems, this program will appeal to you. Take the Mineral Exploration and Mining Technology program, the only program of its kind in Western Canada.
Costs & Supplies
The information below will help you determine the cost of taking the program and assist you in developing a budget for your study.
Mining field courses and trips
In addition to tuition fees, books, supplies and equipment, students will incur expenses for field trips and field courses.
The Mineral Exploration and Mining department runs a number of field trips and courses to various mining and geological sites to aid and supplement classroom learning. While subsidized, these trips and courses require some financial contribution from the students. The values below do not include food, which is typically the student's responsibility on field trips. Please note that trips are optional, but courses are not. Values are subject to change at the department's discretion.
1st Year: No fee
2nd Year: $250 course fee (MINE 4108), and a separate $250 trip fee
3rd Year: $500 course fee (MINE 6020)
4th Year: Student led and supported field trip (cost unknown, trip dependent)
Program Details
The curriculum is current, practical, intensive and broad-based. In the first year students receive training in basic science, math and communications as well as geology, mining methods, blasting, surveying and computer applications. In the second year the emphasis is on mining and the engineering and science skills required for the mining industry. The highlights of the second year include: a week of mine tours, a week's exploration field school and completion of a mining project report. The mining project integrates many of the courses taken during the second year into the development of an industry-standard report detailing a proposed new mine development plan.
The program is well supported by industry. This support exists through our advisory committee and through companies that hire our students as part of the Mining Industry Work Experience program.
Mine tours and field trips from one afternoon to seven days are an integral part of the program and reinforce knowledge gained in the classroom and laboratory. Most of the costs are covered by the program and endowment funds. Each year in March the department organizes a multi-day geology and mine tour. While these tours are optional, students are encouraged to attend to gain experience on actual mine operating sites.
Guest lectures, professional associations and attendance at conventions also provide opportunities for the students to interface with the mining industry.
Keys to success
Most students find the Mineral Exploration and Mining Technology program to be demanding and that it requires a lot of hard work. However, the program is also enjoyable and rewarding. We find that students who attend all their classes, work hard, complete assignments on time, and have a good, positive attitude toward the program and industry are the most successful.
Some of the keys to student success are:
An interest in science and engineering
Well-developed study habits
Attendance at all classes
Work hard from the beginning
A keen interest and positive attitude
Participation in classes and industry activities
Mining Industry Work Experience Certificate
An optional work experience certificate course is available to students in the first year of the program. This course assists students in securing paid summer employment in the mining and minerals industry during the summer period between the first and second year of the program.
Graduating & Jobs
Job opportunities
The mining industry is a diverse industry with a wide range of employment opportunities. Graduates have obtained employment in BC, elsewhere in Canada, the US and internationally. Jobs are located at mine sites, in remote exploration camps, in offices and labs. Jobs include working in the engineering, geology, surveying, blasting, environmental, mineral processing or management departments at mines, with geology crews in exploration, with engineering consulting companies, and at assay labs. Additionally, there are positions in technical sales and support with companies such as mining-related computer software developers, and blasting and equipment manufacturers. Some graduates have started their own consulting companies.
Some more benefits you can look forward to upon graduation:
Registration as Professional Technologist – The program provides you with the necessary qualifications and academic requirements for registration as a professional technologist with ASTTBC.
Transfer to university – You are fully qualified to enter the work force with your diploma. However, if you wish to pursue further studies toward a university degree, you are able to complete a Bachelor of Engineering degree in Mining and Mineral Resource Engineering at BCIT. There are also transfer options available to other universities.
Employees are in demand – The mining and exploration industries are facing a shortage of well qualified professionals owing to an aging and retiring population. Thus new graduates, such as technologists, will continue to be in demand. More information on employment opportunities in the minerals industry is contained on the Mining Industry Human Resources Council (MIHR) website.
Job opportunities – Some of the companies that have recently hired our graduates are:
Faculty, Advisors & Staff
You have a great team of committed faculty, staff and industry advisors supporting your learning!
BCIT instructor passion for teaching helps enable students to succeed in their BCIT studies.
Our faculty instructors are highly qualified geologists, engineers, and applied scientists who have many years of teaching experience. Many of them are Professional Geologists or Engineers, have worked in industry, and continue to maintain close ties with industry. Faculty office locations and phone numbers are available from the BCIT Directory.
Mining program faculty
Gheorghe Bonci, PhD, PEng
Mining Instructor and Academic Program Head
Surface Mining, Drilling, Explosives and Fragmentation, Mine Computer Application and Mine Projects
E: gheorghe_bonci@bcit.ca
Elspeth Barnes, PhD
Instructor and Program Coordinator
Geology, Mineralogy, Exploration and Field schools
E: ebarnes6@bcit.ca
Shawna Waberi, MSc, PGeo
Geology Instructor and Student Coordinator
Geology, Mineral Deposits, Computer Applications, Field school and tours
E: swaberi@bcit.ca
Reza Tafti, MSC, Phd
Geology Instructor and Part–time Studies Coordinator
Geology, Mineralogy, Structural Geology
E: reza_tafti@bcit.ca
Mory Ghomshei, PhD, PEng
Mining Instructor
Underground Mining, Mine Economics and Mine Projects
E: mmohieddinghomshei@bcit.ca
Russell Hartlaub, PhD, PGeo
Geology Instructor
Geology, Mine & Exploration Safety, Field schools and Mine tours
E: russell_hartlaub@bcit.ca
William Oching, BEng, MBA, PEng
Mining Instructor
Underground Mining, Mine Computer Applications and Mine Projects
E: woching@bcit.ca
Staff
Elisa Loaisiga
Program Assistant
E: eloaisiga@bcit.ca
Advisory committee
Tom Broddy, Consultant (Chair)
Alex Doll, AGD Consulting, Metallurgical Consultant
Bruce Bried*, Mining Consultant
Christopher Naychuck, Lafarge Canada Inc. Aggregates Manufacturing Director
Erwin Spletzer, Terus Construction Ltd. Aggregate manager
James Scott, Consultant, Independent Consultant
Lana Eagle, Consultant, Consultant
Malcolm MacLachlan, UBC, Dept. of Mineral and Process Engineering, Administrator
Martin Telford, Wheaton Precious Metals Corporation, Director of Engineering
Maurie Phifer, Tetra Tech, Team Lead Mining Engineering
Megan Gent*, Stantec, Mining EIT
Robert Stevens, AMEBC
* Denotes an Alumnus/Alumna of the BCIT Program.
Part-time Studies
Delivery Mode: ONLINE
This program will be delivered online during COVID-19.
Your education is our priority and we will continue to deliver the applied instruction, collaborative experience, and industry connections that you expect from BCIT.
Are you interested in geology, mineral exploration and the mining industry? We offer a variety of continuing education courses for entry-level to professional workers.
Each of the links below will offer a brief course description or give you the opportunity to register for a course.
Regularly offered courses
MINE 1010 – Mineral Exploration and Mining for the Business and Investment Community
CLASSROOM COURSE – Provides an overview of mineral exploration and mining for those in the financial industry and for investors. Covers a basic introduction to geology, mineral deposits, exploration techniques, drilling, resource and reserve estimates, exploration agreements and mining methods. Includes an overview of how to read technical news releases, understand drill and assay results and evaluate exploration properties and companies.
Dates: normally offered once in the fall.
MINE 1100 – Introduction to the Minerals Industry
ONLINE COURSE – Introduces students to the wide scope of the minerals industry and prepares them for further courses in mining. The course covers the breadth of the industry from mineral exploration through to processing and marketing of mining products. The history of mining is covered from early ages through to modern times. Considerations regarding the preservation of the natural environment and the concept of sustainable development are introduced.
Dates: normally offered once per term (Fall, Winter, Spring/Summer).
MINE 1101 – Physical Geology
ONLINE COURSE – Presents an overview of the processes and materials that form and shape the planet Earth. Labs include rock and mineral description, examination of geological maps and structures, and study of geological processes. This course will appeal to aspiring earth science students as well as non-technical mineral industry personnel looking to better understand geologic fundamentals. For students in other programs, this course can be taken as an elective science credit.
Dates: normally offered once per term (Fall and Winter).
MINE 1017 – Mineral Exploration Field Safety
ONLINE COURSE – Based around AMEBC's Field Safety guidelines, this course provides an overview of the key safety issues encountered in the mineral exploration environment and is designed for both new field workers and as a refresher for seasoned explorationists.
Dates: continuous enrollment.
Courses offered based on demand
The following courses are run based on student demand. If you are interested in a particular course please contact Reza Tafti, Part-time Studies Coordinator, to have your name and information recorded. Once the course has gained sufficient number of interested students you will be contacted regarding enrollment.
MINE 1003 – Introduction to Prospecting and Exploration 1: Geology and Mineral Deposits
BOTH ONLINE AND CLASSROOM OPTIONS AVAILABLE – Provides an introduction to geology and mineral deposits as it applies to prospecting and mineral exploration.
MINE 1004 – Introduction to Prospecting and Exploration 2: Techniques and Methods
CLASSROOM COURSE – Provides an introduction to the methods and techniques that are used in prospecting and exploring for mineral deposits.
MINE 1005 – Prospecting and Exploration Field School
FIELD COURSE – Designed for prospectors, explorationists, students, field assistants, contractors and hobbyists as an introduction to field techniques used in prospecting and exploring for mineral deposits at a field school near Oliver in south-central BC.
MINE 1009 – Mining and the Environment – The Britannia Mine, A Case Study
CLASSROOM/FIELD COURSE – The course is geared towards individuals who are interested in developing a better and more informed understanding of the role of mining in our modern society; Britannia Mine is used as a case study. Students will visit the Britannia Mine, near Squamish, BC, on the second day of the course.
MINE 1011 – Behind the News Release: Understanding Mining Disclosure
CLASSROOM COURSE – This course is aimed at non-geologists who write or vet news releases with technical disclosure, as well as geologists who wish to know more about technical disclosure requirements. This course will provide an overview of the requirements for public disclosure of technical information as it relates to a mineral exploration project progressing through its life cycle, including targeting, exploration and project development.
Mine 1012 – Mining Law and Legal Agreements
CLASSROOM COURSE – This course is geared towards both individuals that are new to the mining industry as well as experienced mining professionals that wish to obtain a better understanding of the key legal concepts and issues that impact upon their industry.
MINE 1013 – Mining Industry Risk – Identification, Assessment and Management
CLASSROOM COURSE – Risk is everywhere in the mining industry – financial, technical, environmental and – increasingly – social. This course unpacks risk in all its dimensions: learners will systematically identify, objectively assess, cost effectively monitor and strategically manage risk. This course will appeal to, and benefit from, a diversity of mining industry backgrounds, including directors, investor relations, analysts, accountants, technical professionals, CSR specialists and corporate development officers.
CLASSROOM COURSE – Economic modelling and valuation are at the core of mining investment decisions. This course introduces concepts and methods that will allow participants to understand mine economic valuation techniques and conduct basic project evaluations.
MINE 1040 – Plant Layout Fundamentals
CLASSROOM COURSE – An introduction to the business of designing a metal ore processing plant – from ore source to finished products. Specifically, it will provide a general understanding of ore processing circuits, how the major processing equipment is arranged within buildings, and the relative location of these buildings on a site layout of a typical large-scale copper processing plant.
MINE 2106 – Environmental Applications
ONLINE COURSE – Provides an overview of environmental issues and practices that relate to the mining industry. The course includes an examination of baseline studies, the environmental assessment processes, and environmental applications at operating mines, reclamation and closure.
Note: students must have completed MINE 1100 prior to taking this course.
Check information on registration for part-time and online courses or contact Elisa Loaisigai, Program Assistant, at 604-432-8683.
For information on course content and registration, please contact Reza Tafti, Part-time Studies Coordinator.
Frequently Asked Questions
Thinking of enrolling into our Mineral Exploration and Mining Technology diploma program?
Our faculty and staff have compiled a list of the most frequently asked questions and their answers. If you have further enquirers please contact the program head.
Entrance into the Program
Questions about the Program
What if I do not have the entrance requirements?
If you do not have the entrance requirements or would like to upgrade you academics before starting the program, you should consider the Technology Entry program offered by BCIT.
Alternatively, you can pick up the courses you are missing at your local school board, college or via distance education with the Open Learning Division of Thompson Rivers University. You should make sure that any courses you take will be accepted by BCIT for admissions BEFORE taking the course.
Is Financial Aid available?
Yes, a variety of types of financial aid are available to Mining Technology students, including entrance awards, bursaries, student loans and academic awards.
What about student housing?
Both on and off-campus student housing is available.
Can I register as a professional technologist as a graduate of the Mining Program?
Yes, the Mineral Exploration and Mining Technology program is nationally accredited as an engineering technology program. As such, a graduate of the program has all the academic requirements for registration as a professional technologist. To be eligible for registration, a technologist must also complete a certain amount of work experience and complete a professional practice exam. For more information or registration, please refer to the website for the Applied Science Technologists and Technicians of British Columbia.
Do we have to pay for mine tours and field trips?
Most of the cost for mine tours and field trips are covered by the program and by funding from the Cy and Emerald Keyes Foundation and the John Salisbury Endowment Fund. For the first year geology trip and local mine tour there is a $100 commitment fee and for the second year international mine tour there is a $250 commitment fee. Students are expected to cover their food costs.
Is the program hard?
Most students find the program to be demanding with 30 hours of class and lab time a week plus substantial out of class time to complete assignments and labs and to prepare for tests and exams.
Who will I learn from?
You will learn from dedicated instructors with a diversity of industry and academic experience. Key instructors in the Mineral Exploration and Mining program include both geologists and mining engineers.
Can I get credit for courses I have already taken?
Yes, you can get credit for courses you have already taken toward the Mineral Exploration and Mining Technology diploma. In order to obtain transfer credit, the courses you have taken must be very similar in content and level of difficulty to the related course in the Mining Program, and it must be an equal or greater number of credits. Transfer credit can only be applied for once you are accepted into the program and usually at the start of each term. You can obtain transfer credit for a maximum of 50% of the courses in the program.
Do you have a co-op program?
We have a co-op style work experience program between first and second year where the Mining department and BCIT's Co-op office assists students with finding well-paid summer positions in the exploration or mining industry. Students who are serious about obtaining summer employment in industry and put effort and integrity into finding a job should have no problem finding a suitable summer position through this program.
Can I take courses on a part-time basis?
The diploma program is not offered on a part-time basis. However we do offer a number of part-time studies classes that are generally offered in the evenings and on weekends.
How many students enter the program each year?
The mining program will accept up to 40 students into the program each September.
Who are the students in the program?
Students in the Mining Program come with a range of backgrounds and experience. Approximately 25-35% come right out of high-school, 25-35% have some post-secondary education up to degrees, and 40-50% have worked at various jobs for one to ten years before entering the program.
How can I transfer into the B. Eng. In Mining and Mineral Resource Engineering Degree Program?
The diploma program has a common first year with the engineering degree program. All applicants for the degree program must complete the first year of the diploma, or equivalent, before continuing into the Bachelor of Engineering degree program.
Students who have successfully completed the first year of the diploma may apply for transfer into the second year of the degree program. Eligibility to enter the degree program is based on Grade Point Average (GPA) scores. Entry may be competitive and meeting the minimum entrance requirements does not guarantee acceptance into this program. Further information on entrance requirements and transfer options can be found on the Mining and Mineral Resource Engineering Degree website.
What are the transfer options to other universities?
The mining program maintains transfer agreements with Norman B Keevil Institute of Mining Engineering at the University of British Columbia and with Mining Engineering, Metallurgical and Minerals Engineering and Geological Engineering at the Montana Tech of the University of Montana in Butte.
Transfer to UBC requires a 6 month bridge program at Camosun College before entering 3rd year engineering. Transfer to Montana Tech is direct into 3rd year. Montana also offers a number of scholarships for Canadian students that keep the costs in line with Canadian universities.
Students can also transfer into the Bachelor of Technology in Environmental Engineering offered at BCIT.
Graduates of the program also enter geology and engineering programs at universities in BC and elsewhere in Canada. The number of BCIT courses that are eligible for transfer varies and normally ranges from one to one and a half years of the program. Thus an additional 3 years is typically required to complete a degree. The department will assist students who wish to transfer to other programs or universities.
Field School
The mineral exploration field school is an eight day field course that is part of the two-year Technology diploma and four year degree programs. It introduces students to a wide range of geological and mineral exploration field techniques. These techniques include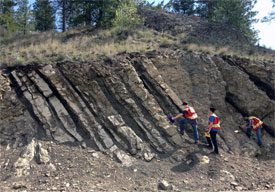 June 2015 – Students examining exposed rock face near BCIT's Field School, Oliver, B.C.
Basic field methods: compass use, map orientation, field notes, pace and compass, working with varied scales and keeping located in the field.
Geological field methods: strike and dip, sample collection, field description of rocks, minerals and formations, map making, field sketches, and preparing field cross-sections.
Exploration methods: prospecting, grids and grid mapping, tracing zones of mineralization, trenching, soil sampling, geophysics, exploration sampling, identification of mineralization, report preparation.
The school takes place in the spring in and around Oliver in the Okanagan Valley, British Columbia. The weather is typically dry with daytime temperatures ranging from the low teens to low thirties (Celsius).
The field school course involves visiting various sites for half-day exercises, followed by a 3-day mapping project in the historic Fairview Mining camp.
Please contact Elisa Loaisiga, Program Assistant, at 604-432-8683, if you have any further questions regarding the camp.
Contact Us
Questions or comments?
Subscribe
Sign up to receive updates, invitations to events, and information about BCIT and your program.
We promise not to spam you, we won't share your personal information, and you can unsubscribe at any time.
Programs and courses are subject to change without notice.