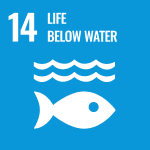 SDG 14 is complementary to SDG 6: Clean Water and Sanitation. SDG 6 targets universal access to clean water and sanitation services, increasing the treatment of wastewater, improving water use efficiency, and protecting and restoring freshwater ecosystems.
Both SDG 6 and 14 call for reducing marine pollution, protecting marine and coastal ecosystems by ending overfishing, conserving at least 10% of coastal and marine areas and taking action for their restoration in order to achieve healthy and productive oceans. Water uses and developments upstream on land and along rivers and lakes risk impacts on ecosystems downstream in coastal zones and marine environments.
The Burnaby campus has a network of approximately 54 buildings located on the north end of campus. The south end of campus has a forested area with second growth trees and other vegetation. The campus is situated in the Brunette River watershed with Guichon Creek running from the south end of campus to the north and ultimately draining to the Fraser River and Pacific Ocean. The Brunette watershed was historically full of fish, such as salmon and trout, and functioned as important wildlife habitat.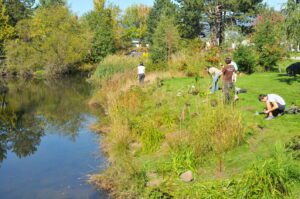 During the 1920's Guichon Creek was still a vibrant part of the ecosystem, and people could catch fish along its banks. From 1930 to 1960 the creek was urbanized and the lower half was culverted, travelling underground through the north-east quadrant of the campus. In the 70's and 80's restoration work began at the south end of the creek. Students and staff from the School of Construction and the Environment's (SOCE) Fish, Wildlife, and Recreation (FWR) and Ecological Restoration (ER) programs have worked for 25 years to restore the creek by following Ecological Restoration best practices. For Guichon Creek this involved re-establishing streamside vegetation, enhancing in-stream habitat, and improving water quality, with help from donors and the City of Burnaby. Now a successful example of urban stream restoration, and sensitive habitat for fish and wildlife, the creek was even repopulated with cutthroat trout in 2006.
There are clear links between the restoration of Guichon Creek and SDG 14. While SDG 14 focuses on oceans and sustainable fish harvesting, target 14.2 specifically addresses the sustainable management and protection of marine and coastal ecosystems and taking action for their restoration. Salmon are anadromous fish, meaning they spend part of their life in the ocean before returning back to the creek of their birth and spawning before dying. Salmon are a commercial fish and are in population decline throughout the west coast of Canada. Providing spawning habitat through creek restoration is a valuable contribution to salmon conservation and SDG 14. In 2016, adult chum salmon returned to spawn in Guichon Creek.
The video below explores past Guichon Creek restoration efforts. The Operations section below highlights the future plans for daylighting the creek on the north end of campus.
Administration & Operations