Overview
The Bridge Watch Rating Associate Certificate is the foundation to beginning your career at sea. We'll teach you all of the essential knowledge and skills related to the practice of seamanship, navigation, standards of safe working procedures, and the hazards associated with the marine environment.
This program is designed to provide entry-level personnel with base-level knowledge of seamanship to prepare you for a career at sea with BC Ferries, the Canadian Coast Guard, local companies and other Canadian companies operating ships and vessels.
The program is offered three times per year, March, September and December.  Contact the BMC Admissions/Registration office at 604-453-4100 for available dates.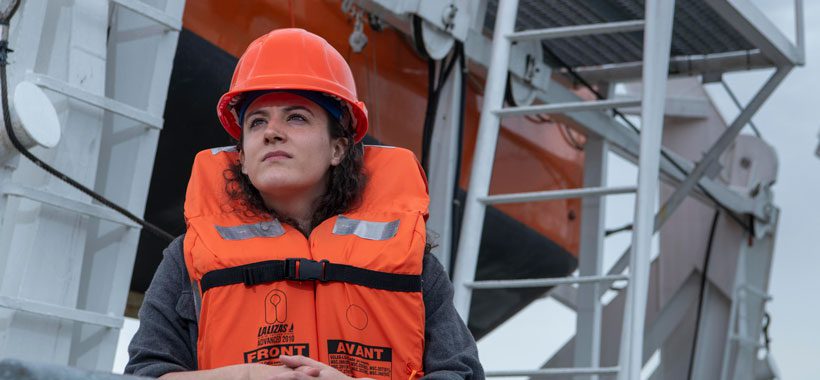 Get the skills you need for a career at sea
Bridge Watch Rating forms part of a team involved in the following activities:
Keeping a lookout
Steering the vessel
Operating communication systems
Handling ropes and chains
Anchoring and mooring
Responding to emergencies
Assisting in cargo operations
The Bridge Watch Rating program
This 12-week full-time entry-level program is based on modular courses and provides you with the following training certificates:
BCIT Recognition of Training in Workplace Hazardous Materials Information System (WHMIS)
Industry Canada Radio Restricted Operator Certificate – Maritime Commercial (ROC – MC)
Marine Basic First Aid Certificate (MBFA)
Successful completion will also make you eligible for four months of sea time remission.
Please note: this Transport Canada accredited course requires 90% attendance and an aggregated 70% passing grade. To achieve full Transport Canada certification, you must complete an additional two months of sea time, as well as STCW Basic Safety Training (MEDI 1510) and STCW Survival Craft training (MEDI 1810).
Entrance Requirements
Due to the popularity of the Bridge Watch Rating program, only completed applications, with the required documents, will be considered.
Costs & Supplies
Contact the BCIT Bookstore for information on textbooks.
Bridge Watch Rating
Required Text(s)
Seamanship Techniques by D.J. House (single volume edition)
Recommended Resource(s)
Collision Regulations
Chart No. 1:  Symbols and Abbreviations and Terms
Canadian Aids to Navigation System – Canadian Coast Guard Publication
Required Equipment
Pocket knife with locking blade, or fixed blade with sheath
3-ring binder
Colouring pencils
Marine Basic First Aid Course
Manuals will be issued on the first day of class.
Radio Operators Course
Manual will be issued on the first day of class.
Women & Indigenous for BWR
Kickstart your nautical career
This Enhanced Bridge Watch Rating (BWR-E) program is accepting applications from indigenous people and women with funding from the Government of Canada through the Oceans Protection Plan.
This program will give you an opportunity to explore a marine career working on tugboats, ferries or deep sea vessels. Career opportunities also include water-based ecotourism, commercial fishing, sport fishing, travel and other recreational marine guiding roles.
Benefits
The Enhanced Bridge Watch Rating pathway is slightly different from the main pathway:
Longer, 17-week program
Fully-funded tuition
All the courses you need to get Transport Canada certified
Streamlined application process
The Enhanced program has a longer time-frame to allow for the additional courses. The exact length may vary, depending upon electives.
Fully-funded tuition
Women and Indigenous people are eligible for subsidized tuition. All direct costs are covered including tuition, textbooks, lunch or lunch money, and accommodation and travel costs.*
*You may be eligible for reimbursement of travel, accommodations, meals, and a small stipend for incidentals if you are displaced from your home community to complete your hands-on training.
The cost for the Transport Canada Medical Certificate will be reimbursed upon acceptance into the program. Day care for family members is not covered at this time.
Extra courses
You'll get all the training and marine experience you need to get full Transport Canada certification. As soon as you complete this program, you'll be able to get entry-level employment as a deck hand with employers such as BC Ferries, Canadian Coast Guard, and Seaspan.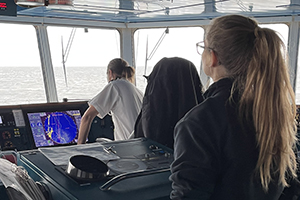 All the courses in the regular Bridge Watch Rating program are covered plus the Marine Emergency Duties courses as well.  If your community arranges for a cohort, there are additional elective courses available.
The extra courses included are Bridge Watch Rating (Certificate requires two months additional sea time), STCW Basic Safety Training (BST), and STCW Proficiency in Survival Craft (PSC).
Study close to where you live
The program is hosted on both sides of the Salish Sea. Your options include the BCIT Marine Campus (BMC) in North Vancouver, or Camosun College Interurban Campus in Victoria, or even a remote community.
Some content must be delivered in the Lower Mainland but we strive to work closely with interested communities to offer much of this training where students live. Community consultation will allow for possible additional or alternate content to meet local need in addition to the core foundation courses.
Eligibility

You'll need to be able to work at the level of Grade 12 English and Grade 11 Math to participate. We'll help you if you need a refresher before starting the program.
Find out more
Download the program application form and the Candidate Document Number (CDN) form to start the application process.  Contact the Bridge Watch Rating Program Coordinator for more information on the program and your funding eligibility:
Debbie Power
Program Coordinator
Bridgewatchrating_enhanced@bcit.ca
Tel: 604-456-1072
Contact Us
BCIT Marine Campus Registration Office
Tel: 604-453-4111
Department Head:
Agnelo Pereira
Questions or comments?
Subscribe
Sign up to receive updates, invitations to events, and information about BCIT and your program.
We promise not to spam you, we won't share your personal information, and you can unsubscribe at any time.
Programs and courses are subject to change without notice.