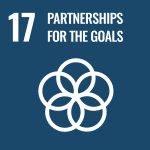 SDG 17 is quite broad compared to the other SDGs and is different with how post-secondary institutions might have an impact. BCIT has joined multi-stakeholder organizations and formed partnerships that mobilize and share knowledge and expertise to support the achievement of the SDGs. This page features partnerships specific to advancing the SDGs as a whole. Many other partnerships that touch on one or more SDGs are highlighted on the other SDG pages.
AASHE Memberhips
BCIT Employees can sign up for a free AASHE account
The Campus Sustainability Hub is a one-stop shop for AASHE members to access toolkits and resource collections about all aspects of sustainability in higher education, from academics to operations to governance.