Overview

This is Canada's first master's program specializing in Ecological Restoration, offered as a joint program between British Columbia Institute of Technology (BCIT) and Simon Fraser University (SFU). The MSc in Ecological Restoration combines the strong technical and applied (experiential) knowledge at BCIT with SFU's fundamental (contextual) basic science and community engagement expertise. The product is a unique joint-degree program that will fundamentally advance both the practice and science of ecological restoration.
Ecological Restoration (ER) is a scientific discipline that has recently emerged due to the increasing need to restore degraded and damaged ecosystems. Many ecosystem goods, services, and natural habitats have been severely impacted due to the cumulative impacts of previous and ongoing anthropogenic influences, including for example: urban sprawl, industrial expansion, invasive species, and contamination of soils and water resources. These impacts, and the need to remediate, rehabilitate, and restore habitat for threatened and endangered species, have led to the requirement for ecosystem restoration work across the province, Canada, and internationally.  Ecological Restoration is an intentional activity that initiates or accelerates recovery of an ecosystem with respect to its health, integrity, and sustainability.
This five-term, two-year (36 credits (BCIT)/units (SFU) – inclusive of a 6-credit/unit capstone project) program will produce graduates capable of using critical thinking, adaptive management, and applied research within an applied problem-solving framework. This combination of skills will be applied to the identification of factors responsible for degraded ecosystems and to the rehabilitation and restoration of ecosystem functions, while advancing the scientific knowledge of this rapidly emerging discipline.
Graduates will have the critical and theoretical skills needed to set priorities, develop a structured approach to restoring degraded ecosystems, and critically assess their success in highly complex and unpredictable environments with significant uncertainties.
Inherent in the program are development of essential skills for program management, communication, and respectful community consultation. The program will leverage expertise at both institutions, and local experts and case studies, to understand how to approach ecological restoration in diverse sociocultural and biophysical settings.
THE STRENGTHS OF THE PROGRAM:
Is a unique interdisciplinary & inter-institutional curriculum;
Is at the leading edge of this new, and rapidly growing, environmental discipline;
Courses have been specifically designed to offer advanced, specialized training in ecological restoration;
Entails an interdisciplinary, hands-on approach to addressing pressing practical problems;
Permits specialization in restoration of aquatic or terrestrial ecosystems;
Focuses on using applied research to provide solutions to government, institutional, and industry problems;
Has strong industry connections via client-based research projects; and
Is a unique program in Canada, and is among very few similar programs in North America.
WHY ECOLOGICAL RESTORATION?
A highly qualified talent pool is urgently needed in Canada's ecological restoration industry. This master's program will provide students with the critical thinking and experiential skills to be leaders and educators in the rapidly developing ecological restoration industry. The unique, inter-institutional curriculum will produce graduates with an integrated body of knowledge and skills for advancing the theory and practice of restoring degraded ecosystems.
WHAT WILL I LEARN?
The program will establish a unique interdisciplinary and inter-institutional curriculum that provides students with an integrated, science-based body of knowledge and skills necessary to meet the challenge of delivering effective and successful restoration programs. Given that there are so few graduate programs with this specialization in North America, this program will advance the knowledge and practice of ecological restoration in Canada and internationally.
The goals of the program are to provide students with the knowledge and skills to:
Critically assess degraded ecosystems at different temporal and spatial scales and locations (local to international) and identify primary causal factors contributing to the declining state of target ecosystems.
Design a restoration prescription (unique to target sites and project goals) by integrating ecological principles (theoretical) and physical processes with applied restoration techniques.
Develop and initiate detailed monitoring programs needed to assess the success of restoration programs and to identify approaches to guide the restoration process.
Adapt and modify the restoration approach as deemed appropriate based on monitoring results within an adaptive management framework.
Establish strong scientifically-based approaches (research skills) to enhance reliable knowledge in the field of restoration ecology (the scientific foundation of ecological restoration).
Act as a team leader and engage in respectful community engagement and planning of ecological restoration projects.
Operate with a historically informed and policy sensitive understanding of the cultural practices and protocols of First Nations.
Communicate effectively with all stakeholders as required to successfully initiate and conduct restoration programs.
Develop and apply project management guidelines for each stage of a restoration project.
Display and encourage behaviour that reflects integrity, responsibility, and the values and ethics of professional restoration practitioners.
Where will I learn?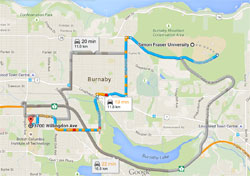 The program is a unique joint degree in full partnership between BCIT and SFU, both located in Burnaby, BC.  Of the 36 credits/units needed to graduate, 18 credits will be taught at BCIT's Burnaby Campus and 18 units will be taught at SFU's Burnaby Campus. Students will be fully enrolled in both institutions and have full student access to each institute's resources and facilities. Graduates can attend convocation ceremonies at both institutions as well. The Institutions are less than a 20 minute drive apart.
Check out our virtual info session for more information
Courses
Course Requirements
This program consists of 36 credits or 12 courses. The courses are divided into core and elective courses. Core courses are built into the program, while elective courses are chosen by the student with approval from the Supervisor for program relevance. Students should take two elective courses: a BCIT specialty elective course or an SFU or Western Dean's Agreement course, and an SFU elective graduate course.
The elective graduate course at SFU is necessary to fulfill the 50% residency requirement to receive a M.Sc. degree from SFU.
Program Details
The program consists of both coursework and applied components. The use of experiential learning is a major strength of the program, with many courses offered in-class at BCIT or SFU (Burnaby) or in the field.
Through experiential learning, students integrate and apply theories, concepts, and observations firsthand.  Through experiential learning, students will experience the variability and uniqueness of ecosystems, and the difficulty of applying the same concepts to all sites.
A case-based learning methodology will also be used throughout the program to provide students exposure to restoring ecosystems in other areas of the world. Case studies will illustrate how concepts can be integrated and applied to complex ecological systems. Students will be actively engaged in discussion of specific problems in complex, real-world situations. This method is student-centered and involves the exchange of ideas among participants. The instructor's role will be that of a facilitator, while students address problems collaboratively.
A key component of the Ecological Restoration degree will be the field visits to active restoration projects in the Lower Mainland and other parts of the province. The extensive ecological disturbance and damage that has occurred throughout the Lower Mainland provides real-world opportunities to apply skills in a broad range of restoration activities. Real-world scenarios in ecological restoration will be presented through assignments and team-based projects within courses. These projects will allow students to apply their knowledge from classroom and lab sessions.
Graduating & Jobs
Job opportunities
There is currently a shortage of qualified restoration biologists and practitioners trained in the techniques needed to restore terrestrial and aquatic ecosystems in British Columbia and other jurisdictions in Canada and abroad. Similarly, there are few opportunities to complete a graduate-level program in Ecological restoration in North America. This program will provide a solid foundation for students wishing to embark upon a career involving the conservation, maintenance and restoration of terrestrial and aquatic ecosystems.
Graduates will be qualified for employment with organizations whose mandates involve the restoration of natural ecosystems, particularly fish and wildlife habitats. Upon graduation, students will have the skills and knowledge to qualify for existing positions and develop rewarding careers with municipal, regional, provincial and federal government agencies, private industry, stewardship groups and other NGOs as restoration practitioners, intermediate biologists, and habitat restoration specialists.
Faculty, Advisors & Staff
Program Head
Faculty
Staff
Advisory committee
Kevin Shantz, Research Office, Metro Vancouver, Parks Planning & Environment – Chair
Andy Smith, Senior Terrestrial Ecologist/Wildlife Biologist, Ecofish Research
Brian Titaro, Stewardship Coordinator, Metro Vancouver
Bruce Blackwell, Principle, BA Blackwell
Chloe Hartley, Referrals Analyst, Tsleil-Waututh Nation
Dave Scott, Biologist, Raincoast Conservation Foundation
David Polster, President, Polster Environmental Services
Eric Balke, Coordinator-South Coast Conservation Land Management Program, Ducks Unlimited Canada
Gillian Donald, Owner, Donald Functional And Applied Ecology
Jennifer McGuire, Assistant Deputy Minister, Ministry of Environment
Ken Hall, Professor Emeritus, UBC
Marlow Pellatt, Ecological Restoration Specialist, Parks Canada
Natalie Tashe, Project Management Reclamation Planning, Stantec
Pontus Lindgren, Environmental Manager, Westpark Electric
Contact Us
Giti Abouhamzeh
Program Assistant for Ecological Restoration
BCIT School of Construction and the Environment
Tel: 778-331-1392
Email: Giti_Abouhamzeh@bcit.ca
Questions or comments?
Subscribe
Sign up to receive updates, invitations to events, and information about BCIT and your program.
We promise not to spam you, we won't share your personal information, and you can unsubscribe at any time.
Programs and courses are subject to change without notice.