Campus Planning and Facilities actively integrates sustainable practices for energy management within its operations across all five campuses. These activities result in significant reductions in CO2 emissions and energy savings.
Energy team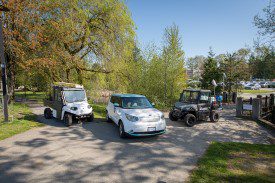 Within Facilities Services, the BCIT Energy Team is tasked with reducing Institute greenhouse gas (GHG) emissions by 33% by 2023.*
The energy used to run campus buildings is a major source of these climate-altering emissions. Other GHG sources include supplies, such as paper, and fuel used in fleet vehicles and equipment.
Download BCIT's 2022 Climate Change Accountability Report
BCIT's Energy Team partners with departments across the Institute to:
Improve efficiency through retrofit projects and upgrades of aging equipment;
Move to decarbonized energy sources where possible;
Provide real-time monitoring of energy use; and
Support electric fleet vehicles and charging infrastructure.
(*measured against 2007 levels)
The Energy Team is currently working on a wide range of projects that improve energy efficiency on campus.
Upgrades to existing systems, to make them more energy efficient (for example upgrading LED lighting with efficient controls).
Advising on energy-efficiency and low-carbon opportunities in new campus buildings.
Developing new energy efficient systems like central heating plant and SE8, or the campus geo-exchange field under SW1.
Continuously monitoring and optimizing our building management system (BMS)."
Recently Completed Projects
| | |
| --- | --- |
| | The upgrade of the heating and ventilation systems at SW9 have reduced energy use and greenhouse gas emissions, and also improved temperature comfort for faculty, staff, and students. |
| | The data centre heat recovery project at the Downtown Campus reuses heat generated by the data centre to heat other areas of the building, including the new renovations on the second floor. |
| | Upgrades to the exterior of NE25 in the Burnaby Campus improved the building's energy usage and provides a better capacity to control temperature for classrooms. This particularly benefits the the south side of the building where a new solar shading system was installed. |
| | The Health Sciences Centre building was completed in 2022 and showcases a wide range of energy efficient technologies. It draws heat from the campus geo-exchange field and deploys efficient heating that circulates air. The building's basement is home to 60 parking stalls equipped with electric vehicle charging. More about the project |
Current / Future Projects
| | |
| --- | --- |
| | Work is well underway on the design for renewal of the SE8 central heating plant. This will create a low-carbon source of heat for buildings at the centre of Burnaby Campus. The upgraded operational environment including a working power engineering control room will provide a valuable learning tool for School of Energy students. |
| | Tall Timber Student Housing. Working with BCIT's Project Services team to embed energy efficiency in the designs for the new Student Housing Building so it meets the BC Energy Step Code 4. More information on the project |