Facilities and Campus Development actively integrates sustainable practices for energy management within its operations across all five campuses. These activities result in significant reductions in CO2 emissions and energy savings.
Energy team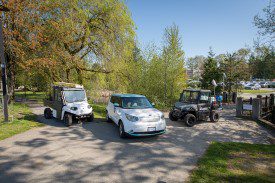 Within Facilities Services, the BCIT Energy Team is tasked with reducing Institute greenhouse gas (GHG) emissions by 33% by 2023.*
The energy used to run campus buildings is a major source of these climate-altering emissions. Other GHG sources include supplies, such as paper, and fuel used in fleet vehicles and equipment.
Download BCIT's 2018 Carbon Neutral Action Report [PDF]
BCIT's Energy Team partners with departments across the Institute to:
Improve efficiency through retrofit projects and upgrades of aging equipment;
Move to decarbonized energy sources where possible;
Provide real-time monitoring of energy use; and
Support electric fleet vehicles and charging infrastructure.
(*measured against 2007 levels)
Check out the BCIT Energy Meter Dashboard with real-time energy use for buildings across BCIT campuses.
Next steps: 2018 & beyond
Download BCIT's 2018 Strategic Energy Management Plan [PDF]
Key activities for the coming years include:
Partnering with BC Hydro and FortisBC, BCIT will be undertaking several large HVAC retrofit and efficient control strategy projects.
Replacement of 50-year-old, inefficient boilers in our Burnaby central heating plant (SE08).
Identifying opportunities for expanded renewable energy generation on our campuses.
Advising on energy-efficiency and low-carbon opportunities in new campus buildings.
BCIT Imaging has set up a system called "Papercut" that will require staff to go to printers to release their print jobs. This cuts down on abandoned printing.
Upgrading to LED lighting with efficient controls.