Facilities Services provides extensive recycling, composting and waste removal services. To facilitate these services, different bins are used to collect different waste materials separately. Exterior waste bins at Burnaby campus can be located on the exterior waste bin map [PDF].
For additional bins for moves or large clean-ups please submit a request: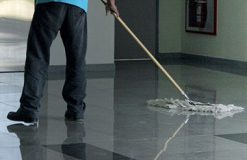 Facilities Services manages and oversees a third-party contract who provides custodial services for the campus community. The contract details the frequency and specification for all services provided in order to keep the campus safe and clean. There is 242,000 m2 (2,604,000 ft2) of occupied space that is cleaned regularly at all of our campuses, with some areas cleaned twice daily to accommodate evening classes.
Standards
BCIT complies with APPA cleaning standards and operates under the LEED Green Cleaning program.
Emergency clean-up
Please report issues to the Facilities Service Desk to have them addressed immediately:
Liquid spills in hallways or stairwells that may pose a slipping hazard
Slippery floors due to rain or snow
Ceiling or roof leaks
Carpet spills, such as coffee, juice, food or ink
Toilets overflowing or not flushing
Smells of fumes or strong odours
Special requests
For additional custodial services including special events clean-up, please submit a request:
Poster guidelines
Printed materials may be posted on BCIT bulletin boards for BCIT staff and BCIT activities. Materials may only be affixed with masking tape or, in the case of bulletin boards, thumbtacks. Printed materials may not be posted on any painted or glass surfaces, exterior surfaces, doors, cement surfaces, over existing posters or signage, in washrooms, or on floors.
Posters can be placed on the following:
Bulletin boards located throughout the campus, that are marked for "General Use," which are cleared on a quarterly basis
SE6 2nd floor lobby, on the blue circular metal pillar only
SE2 Great Hall, with stamped permission from the Student Association
Unauthorized posted materials will be removed.