Project Description
The North Campus Infrastructure project will provide an essential upgrade of BCIT's electrical infrastructure. Electrical power at the Burnaby Campus is provided mainly through two on-campus high voltage (HV) receiving stations – "Goard Way" (South) and "Canada Way" (North), connected to the 12.5K HV BC Hydro service.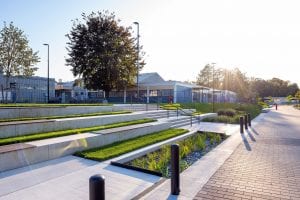 The project includes the replacement a hydro receiving station that is reached the end of serviceable life and requires immediate replacement. The hydro station powers approximately 50 percent of the campus, including all of the institute's Burnaby-based trades education programs. Eleven substations and all related infrastructure will be replaced at the same time.
This upgrade ensures that operations at BCIT will continue uninterrupted by power failures and provides a foundation for planned renovations and new buildings at the Burnaby Campus while advancing the institute's sustainability goals by allowing for improved delivery and management of energy.
Construction Progress (Updated April 26, 2018)
| Utility | Total Installed (m) | Project Total (m) | % Complete |
| --- | --- | --- | --- |
| Water main | 1,376 | 1,907 | 72% |
| Storm | 168 | 768 | 22% |
| Sanitary | 0 | 285 | 0% |
| Gas | 542 | 700 | 77% |
| Duct bank | 616 | 1,860 | 33% |
| Electrical manholes | 23 | 39 | 59% |
| HV/LV cable pulls | 0 | 28,185 | 0% |
Goals/Objectives
The objective of the proposed upgrade works is to improve the resiliency and reliability of the electrical infrastructure at BCIT. The scope of work defined to achieve project objectives includes:
Construct a new power receiving substation within the BCIT Hydro Station on Goard Way to replace the existing aging Canada Way receiving substation
Infrastructure improvements associated with the adjacent modernization of electrical upgrades.
Replace all aging unit substations on the north campus serving buildings north of Goard Way over a period of three years
Replace all underground infrastructure impacted by the zone of work, involving water, sewer, storm, gas and data service lines
Establish a new BC Hydro connection at the corner of Carey Ave and Canada Way. The new electrical backbone infrastructure is to be built on the north campus. It will encompass three major electrical services:

High voltage (HV -12.5/25kV)
Low voltage (LV – below 750V) and,
Telecommunication / control / safety service
Related Information
Project Funding
The total project cost is estimated at $46.9 million.
BCIT News Story
New jolt of funding to renew BCIT Burnaby's electrical system