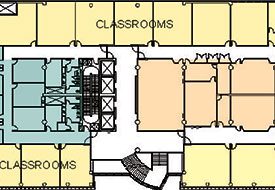 BCIT's programs are accommodated in 57 buildings and occupy close to 255,907 m2 (2,754,560 ft2) of space. Campus Planning compiles and maintains a facility space inventory of all facilities. The facility space inventory is reported to the Ministry of Post-Secondary Education and Future Skills on an annual basis and enables comparison of space utilization with other post-secondary institutions while providing base information for funding and accountability.
Space classifications
Campus facilities are categorized into space classifications as defined by the Ministry:
Instructional
Laboratory/Research
Shop
Administration
Library
Special Use
Space planning
Space planning involves the classification of space, space use, room numbering and space access. Please contact us if you have any questions or are considering changes to any of the following:
Space classification & capacity
Rooms are classified by use. The maximum capacity of a space is determined by the BC Building Code to ensure compliance with occupancy and emergency exiting standards.
Room numbering
Room numbering applies to offices, classrooms, corridors and common areas, and is linked to space inventories. Room numbering changes are exclusively controlled by Campus Planning. If a room number change is desired, a request must be submitted to Campus Planning.
Space access & restrictions
Changes to access restrictions for common spaces like meeting rooms or classrooms require prior approval from Campus Development.
Program moves
Changes in educational programs often impact space usage. Campus Planning works with several different BCIT departments to coordinate program moves. For example, renovation work is coordinated through Project Services, furniture changes are administered in conjunction with Supply Management and Logistics Distribution & Storage services, and ITS and other support services are considered.
Please refer to the BCIT Facilities and Campus Planning Move Instructions [PDF] for full details.
Floor plans
Floor plans of BCIT facilities are posted as a resource and are updated on a regular basis. Please note that these plans change from time to time as renovations to spaces are completed.