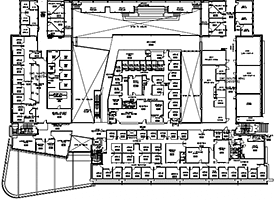 BCIT's Campus Development Division is responsible for maintaining the Institute's floor plans for campus buildings. Updates are posted as available.
Contact Campus Planning for further information about floor plans. If you are student requiring campus floor or site plans in a different format, please fill out the Student Plan Request Form [PDF] and contact Facilities Services.
Please note: BCIT floorplans are provided for general information purposes. BCIT does not warrant or make any representations as to the quality, content, accuracy, or completeness of the information contained in the floorplans including the labeling, dimensions, placement, or location of any floorplan features.
Follow the links below to view and download PDF versions of each campus' floor plans.