Project Description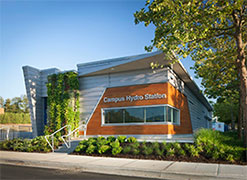 A continuation of the infrastructure replacement initiative at the Burnaby Campus, the Substation K Electrical service replacement project aimed at establishing a new 25KV compatible BC Hydro Kiosk that will be one of the main connections for future South Campus developments, as well as replacing the Substation K with a modernized 25KV substation that would immediately provide more reliable and resilient service to the campus residence buildings.
Additionally the project took advantage of the opportunity to replace other underground infrastructure that was at end of its service life, including water, gas, and storm sewer along Fairey Street East of White Avenue.
Project schedule: August 2019 to August 2020
This upgrade ensures that operations at BCIT will continue uninterrupted by power failures and provides a foundation for planned renovations and new buildings at the Burnaby Campus while advancing the institute's sustainability goals by allowing for improved delivery and management of energy.