A critical hub for healthcare education
Breaking down traditional learning silos to foster interdisciplinary learning. This integrated and comprehensive centre will advance progressive clinical education through sophisticated simulation, modern classroom technology, and inter-professional practice.
Building features
A rooftop garden, which will showcase native BC plants and will particularly highlight plant species that play an important role in indigenous cultures, for example as medicinal plants.
A 4-storey feature wall. This beautiful design, will continuously expand from the first floor to the fourth
Indigenous Glazing Films are being installed on 62 windows on the South West corner of HSC building. These overlook the building's social stairs so students and staff are able to appreciate the entire design in one go.
60 EV Charging Stalls: The building will be home to 60 Level 2 electric vehicle chargers, a project which received funding from Natural Resources Canada.
Features for advancing education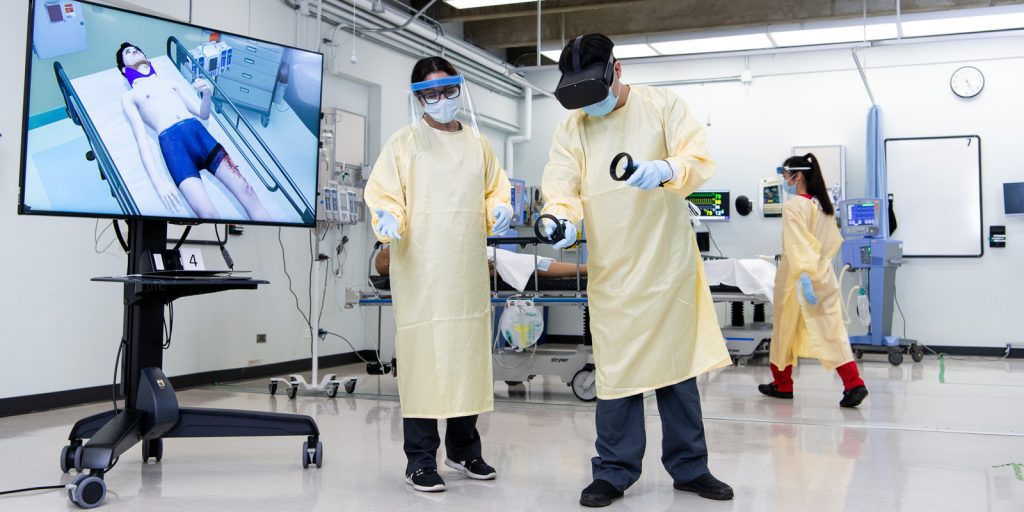 Simulations that uniquely replicate hospital workflows
Flexibility for future changes in education practices
Applied learning and living laboratories
Simulation labs
Multipurpose rooms (Collaborative Project-Based Learning Spaces)
Electronic Health Recording Stations
Technology and sustainability
Sustainable transport
HSC's parking basement will be home to 60 Level 2 electric vehicle connectors. This will make the BCIT Burnaby Campus home to one of the largest charging centres for electric vehicles in all of Metro Vancouver.
The building also includes cycle storage with shower amenities to support students and staff who want to commute on a bike.
Efficient heating systems
A geo-exchange field that will transfer heat to and from the Health Sciences Building. During the summer, heat is removed from the buildings and stored underground in 72 wells, each 75 metres deep. Then during the winter, it is extracted to heat the building.
HSC also employs an efficient heating system that redistributes heat around the building to minimize the need to generate new heat from the plant in the basement. Areas in the building like electrical or server rooms that will need year-round cooling have their heat extracted and redistributed to other areas of the building where heat is needed.
What does the project mean for me and the community?
Learning & teaching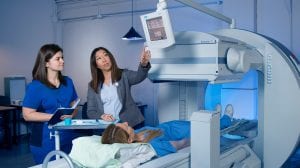 At HSC, healthcare students will be more effectively prepared for clinical roles through technology-based learning experiences and sophisticated simulation environments. Augmented and virtual reality systems and 3D learning settings will not only simulate real-world scenarios, but also accommodate personalized and collaborative learning.
Ready for the real world
The Centre's flexible, interprofessional environment will provide a deeper understanding of workflow across disciplines and allow students to experience all healthcare environments—from remote outdoor settings to community clinics, homes, laboratories, and hospitals.
Impact across the healthcare spectrum
The new Health Sciences Centre will enhance the following programs:
Biomedical Engineering
Biomedical Engineering
Diagnostics
Cardiac Sciences – Cardiac Rhythm
Device Technology
Cardiovascular Technology
Electrophysiology Technology
Cardiology Technology
Cardiovascular Perfusion
Electroneurophysiology
Health Leadership
Magnetic Resonance Imaging (MRI)
Medical Radiography
Nuclear Medicine
Radiation Therapy
Laboratory Sciences
Clinical Genetics Technology
Environmental Health Technology
Food Technology
Medical Laboratory Sciences
Occupational Health & Safety
Nursing
Bachelor of Science, Nursing
Specialty Nursing
Critical Care Nursing Specialty
Critical Care / Emergency Combined Specialty
Critical Care / Pediatric Emergency
Emergency Combined Specialty
Emergency Nursing Specialty
High Acuity Nursing Specialty
Neonatal Nursing Specialty
Nephrology Nursing Specialty
Pediatric Nursing Specialty
Perinatal Nursing Specialty
Perioperative Nursing Specialty
Therapeutics
Prosthetics & Orthotics