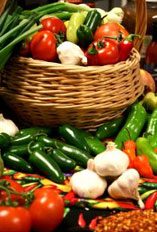 Food and drink is responsible for 26% of the total Burnaby Campus Ecological Footprint, and our top three contributors are brand name liquids (juice, pop, bottled water), meat, and milk products.
Chartwells supplies BCIT with most food services and catering on-campus. Chartwells "embrace the holistic purpose of food and believe that food is an integral part of student wellness and success as it has the power to nourish your BODY, strengthen COMMUNITY, and respect our PLANET." Chartwells states that 90% of its food products on-campus are produced in Canada, which helps to reduce food transport emissions. In Fall 2008, Chartwells committed to provide Canadian, and where possible, provincially grown, cucumbers and tomatoes year-round, and other year-round produce was added in 2009.
Local, low-packaging, and unprocessed foods are eco-friendly, but production of food products can also be engineered to be less harmful. For example, Chartwells' ketchup is in bulk dispensers, and is also "eco-friendly" because:
Water used in processing is re-used up to 10 times in the factory.
Use of natural gas generators provides a net supply of electricity to the public power grid.
Pollution and waste reduction efforts met a stringent Environmental Management System, aligned with ISO 14001.
Tomatoes used are grown within 100 km of the plant in Ontario.
As of September 2007, BCIT and Chartwells only use "Free Run" or "Free Range" eggs from "Cage-Free" hens, thereby promoting humane animal treatment and more sustainable farming. Chartwells started offering Fair Trade coffee in 2008.
Chartwells is the founding national food service partner with the Ocean Wise program, which helps people make environmentally friendly seafood choices. These choices are important because an estimated 90% of all large, predatory fish are already gone from the world's oceans, and a recent scientific study predicted a worldwide fisheries collapse by 2048.
Composting and recycling at BCIT also help reduce the environmental impact of our eating habits on-campus.
Energy efficiency in the kitchen
In 2012, BCIT Food Services installed energy efficient dishwashers with heat-recovery capability. The units extract the heat from the steam generated to wash the previous load of dishes and use it to heat the water for the next load. This strategy helps save 45,000 kWh of electricity and 155 GJ of natural gas per year. The new dishwashers also use less water, reducing BCIT's water use in dish washing by 50% (approximately 670,000 gallons).
In 2011, Food Services installed energy-saving curtains on 17 walk-in freezers and coolers. The curtains, made of heavy plastic strips, help prevent cold air from escaping. It's a minor effort yielding impressive results: a savings in electrical consumption of 170,000 kWh per year.
Pavilion
In 2019, the latest campus eatery, Pavilion was opened in partnership between BCIT and the BCIT Student Association (BCITSA). Located in the NE1 building of Burnaby Campus, Pavilion is a fresh new destination providing unique menu items in an inviting and modern atmosphere. Sustainability and innovation are key components of the new eatery.
James Foran, the BCITSA's Director of Marketing and Communications, and the rest of the Pavilion team saw the creation of Pavilion as an opportunity to raise the bar. They rolled out compostable packaging products for most of the in-house foods that Pavilion offers.
"We had a mandate from our previous board that we wanted to do this ethically and sustainably," says Foran. "And one of the ways we can do that reduces our ecological footprint by having compostable packaging." The biggest challenge on Foran's part was sourcing. Compostable and biodegradable products are not the industry standard at the moment, and in order to opt for this eco-friendly approach, they had to adhere to a premium. BCIT agreed with Foran and his team's decision to make Pavilion's operations environmentally-conscious. "BCIT knows that there are positive spill-over effects by taking this kind of approach. So, they've been very supportive of the whole process."
Jimmy Kim says that BCIT holds similar goals for sustainability. From day one, they were onboard in implementing compostable and biodegradable products, especially since they've already started with their own food operations. "There's been a lot of changes [in BCIT's waste management] and a lot of pushes for BCIT to be a forefront leader in [sustainability]."
To satisfy their objectives—while keeping budgetary constraints in mind—Foran and his team had to conduct plenty of research on different providers and test different products. At the same time, they are also promoting the use of reusable items like mugs and bags. "We've taken every opportunity, looked at it and analyzed where our waste is created and where there is opportunity to improve upon."