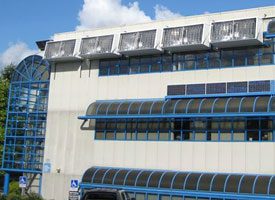 Next time you pass the Burnaby Campus NE25 building, look up at the Solar Canopy modules above the third-floor windows, installed in Summer 2008. Through this groundbreaking first demonstration of the new Solar Canopy, much of the third floor of NE25 will be lit with daylight.
The Solar Canopy invention brings daylight inside multi-floor buildings, slashing electricity needs and greenhouse gas emissions by reducing building energy requirements 25% or more. Electric lighting usually accounts for more than 30% of an office building's energy requirements. The demonstration installation at BCIT will benefit architects, engineers and lighting specialists. Eventually, half of BC's offices could use this technology, which is seven times as efficient as solar-powered electric light.
The Solar Canopy project received $2 million from BC's Clean Energy Fund in 2008 and was a 2008 BC Hydro Power Smart Excellence Award Finalist in New Technology of the Year.