BCIT has a comprehensive recycling, composting, and waste management program that diverts over 70% of our waste from landfill by:
recycling office supplies and equipment – paper, ink cartridges, batteries and computers
recycling consumer products – cans, bottles and plastics
reusing and recycling industrial waste – wood, metal, gyproc and used oils
composting organic materials
At BCIT Burnaby campus, our progress in waste reduction has been made visible by data kept since 1992. The BCIT Ecological Footprint project (2007/2008) analyzed all waste streams leaving the Burnaby campus in solid, liquid and gas form. Campus wide waste audits are conducted every few years to identify the amount of total waste mass collected, diverted and the subsequent diversion rate. In the last ten years our program has seen a 12% reduction of total waste generated on-site, and a 25% increase in our diversion rate. The figure below is a summary from the 2019 waste audit report.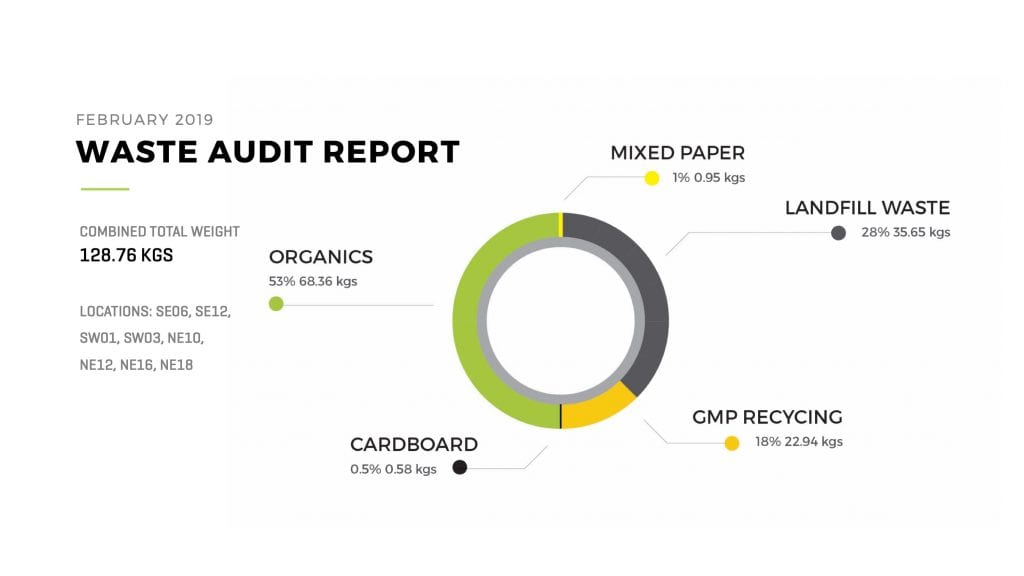 Smaller Bin
Smaller Footprint
Join the Institute-wide Smaller Bins, Smaller Footprint initiative, whose goal is to reduce BCIT's environmental impact, one mini-trash bin at a time.
Make less waste by swapping the regular-size trash can in your office with a mini-trash bin from Facilities Services. Just how small are these bins? About the size of a regular tissue box, the smaller receptacles are more than adequate for your needs. In an office environment, 85 per cent of the waste we produce could be recycled (it's mainly paper) and only 15 per cent should end up in the landfill. That means your trash bin should really be six times smaller than your recycling bin.
By switching to a mini-trash bin, you help BCIT not only lighten its carbon footprint but also save money. Our regular-size trash cans use plastic-bag liners (they're not eco-friendly and end up in a landfill); the new smaller bins don't. Get rid of your regular trash can and you eliminate the Institute's need to buy and use the liners too.
Recycling
We divert 1280 tonnes of waste from landfills every year through recycling and composting efforts. Participate in recycling at BCIT – check out the full list of materials that can be recycled and collected on campus.
Composting
In 1997, BCIT started what was one of Canada's largest commercial compost systems with the importation of 170,000 (almost 170 lb.) red wiggler worms for worm composting. Four years later, the over half-million worms received 60 kilos of "green waste" daily, cutting campus waste by about 16 tonnes per fiscal year. Over 2,180 litres (six 96-gallon containers) of compost were harvested in 2008. Campus yard waste (leaves, grass clippings) is composted separately on site at the warehouse. Compost at home: subsidized backyard composters are available for residents in Vancouver and Burnaby.