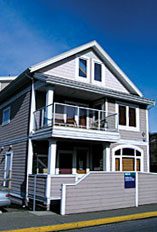 In the Burnaby Campus AFRESH Home, BCIT and BC Hydro have researched photovoltaic (solar roof panel) and fuel cell distributed electricity generation since 2006. Demonstrations, courses, and future programs build knowledge on how homes can contribute renewable energy to the power grid. The home also has a heat-recovering air exchange system, and a geoexchange heating and cooling system that increases efficiency 40%-70% by harvesting heat from the earth.
To support Save the Children's renewable, energy-efficient housing reconstruction in Indonesia's Aceh province after the tsunami and earthquakes, BCIT's Canadian Housing & Construction Centre delivered a train-the-trainer program in December 2006 (with funding from Forestry Innovation Investment; Partners: Save the Children, and Britco Structures) to export knowledge on efficient home-building.
Recognition
BCIT was a finalist for BC Hydro's 2010 Power Smart Excellence Awards, in the category of Conservation Partner, recognizing the Institute's achievement with AFRESH Home and the Distributed Power Connections Study, the Intelligent Microgrid, and other projects. The Photovoltaic Energy Applied Research team at the Technology Centre won the Canadian Institute of Energy's 2000 Applied Energy Innovation Award for its work in Building Integrated Photovoltaics (BIPV).