Overview
The Technology Management (TMGT) program will appeal to technologists, technicians, and technical specialists who work in applied science, technology or trade fields.
The aim of the program is to expand technical professionals' knowledge, management skills and attributes for their roles as supervisors and managers in technical organizations.
Fall 2021 delivery mode: online
This program will be delivered online for the fall semester.
Your education is our priority and we will continue to deliver the applied instruction, collaborative experience, and industry connections that you expect from BCIT.
Please visit our COVID-19 Information page for information and updates about BCIT's ongoing pandemic response.
The Technology Management program is designed to:
Equip technical professionals for supervisory and management positions
Augment advanced technical training within business and management parameters
Establish business and management strategies within a technical environment
Open opportunities to earn university degrees with management and operations focus
Provide practical opportunities for lifelong learning
Earn a degree without disengaging from the work place.
The program is composed of four main course clusters including 23 credits of management courses, 15 credits of advanced technology sector courses, 12 credits of Liberal Studies and a graduation project worth 15 credits.
Meet one of our grads
Success story: Sunny Ghataurah, Director of Applied Engineering Solutions and TMGT 2011 graduate.
Sunny is one of the winners selected by Business in Vancouver 2014 'Top 40 Under 40'. The award highlights BC's outstanding professionals who are under 40 and have demonstrated excellence in business and leadership within BC.
Entrance Requirements
Courses
Program Details
Graduating & Jobs
Job opportunities
Graduates of the program can be from a variety of industries and assume leadership roles as supervisors and managers at the junior and mid-management levels. Technologists and trades technicians may also strive for self-employment as independent contractors and consultants or sole proprietors of their own business.
Technologists, technicians and technical specialists in this degree program have their careers grounded in fields such as biomedical engineering, information technology, civil, electronics, mechanical, airport operations, aircraft maintenance, avionics and many others.
Faculty, Advisors & Staff
Terry Suen
Program Head
Bachelor of Technology
School of Transportation
Tel: 604-451-6886
Email: Terry_Suen@bcit.ca
Megan Alford
Program Administrator
Bachelor of Technology
School of Transportation
Email: malford2@bcit.ca
What's New
Congratulations to TMGT Grads of 2020!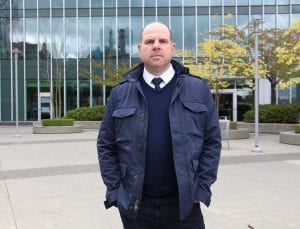 What a year 2020 has been and although we were unable to celebrate and honour our grads with our usual convocation ceremony, TMGT would like to send a huge shout-out to all the TMGT students who graduated and completed their degrees in 2020 so far.
A tremendous effort, dedication and commitment was shown by all and we are proud of all that you have achieved. Congratulations to…
Mangeun (Mark) Lee, Jason Ooi, Gurpreet (Gary) Dadwal, Milan Luketic, Eric Onno, Chi-An (Jason) Tien, Wesley Vong, Tiffani Wong, George Young, Nathan Hallas, Rick Sami, Pooja Samtani, Thomas (Scott) McMillan, Ramy Elia, Courtenay Fong, Giancarlos Garcia Escalante, Weili (Willy) Lee, Amritpaul Khangura, Amin Memarnejad, Dillon Burgess, Chioma Enweugwu, Greg Fuentes, and Jonathan Tsui.
Double congrats to Milan Luketic who is the recipient of both the 2020 School of Transportation Dean's Graduating Award and the TMGT Program Achievement Award. Nicely done, Milan!
2020 February Convocation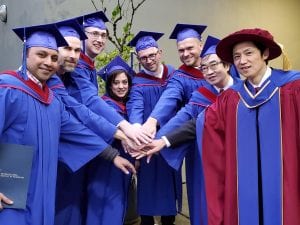 Congratulations to graduates from the 2019-2020 academic year. There are two graduation ceremonies, February and June, in which students may elect to participate. TMGT had a fantastic turnout for our February 2020 Convocation. Congratulations to everyone!
Further congratulations to Thang Le, 2019 School of Transportation Dean's Award for Bachelor's Degree, and Karen Gordon, Grad Achievement Award in Technology Management. Graduating Awards are presented during the June ceremonies and recipients are selected based on academic performance. Congratulations to everyone!
TMGT grad competes at 2020 MBA Games!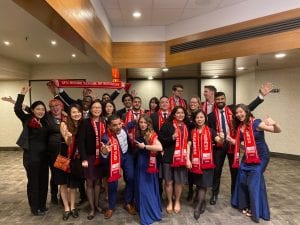 Shelley Graham is a 2011 TMGT graduate completing her final year in the Management of Technology MBA program at SFU Beedie School of Business. She recently shared her rewarding experience as a member of the SFU team at the 2020 MBA Games. The MBA Games is a collaborative opportunity for schools to compete in front of a judging panel as they present relevant solutions to current business challenges. Read more about Shelley's reflection on the event at A Few Good Minds Vancouver MBA Blog.
TMGT Grad, Sunny Jassal, featured in Drishti Magazine!
TMGT grad and BCIT Cyber Security Officer Sunny Jassal has been featured in Drishti Magazine. Learn more about Sunny's career pathway and technical experience in the following profile article, Sunny Jassal: At The Forefront of Cyber Security.
MBA Option

BCIT Bachelor of Technology Management graduates with at least four years of full-time work experience may qualify for Simon Fraser University Beedie School of Business MBA in Technology Management (MOT) Program.
The MBA MOT program is a rigorous business training designed specifically for technology professionals. The curriculum is shaped by the needs of the technology sector, for the needs of the technology sector. In this program, you will get the core business and management training you would expect from an MBA, all in the context of the tech sector. This is a 24-month, part-time program designed for working professionals. Classes are held every Monday and Thursday evenings with occasional intensive classes.
As an alumnus of the Bachelor of Technology Management degree, you may qualify for a GMAT (Graduate Management Admission Test) waiver when applying to the MBA MOT program. Alumni from the Bachelor of Technology Management degree program have continued into the MOT MBA program and have been very successful in the program and in their careers afterwards.
To find out more about the MOT MBA program or to schedule a phone advising appointment, please send your resume (or Linked In profile) and transcripts to motmba@sfu.ca.
Contact Us
Questions or comments?
Subscribe
Sign up to receive updates, invitations to events, and information about BCIT and your program.
We promise not to spam you, we won't share your personal information, and you can unsubscribe at any time.
Programs and courses are subject to change without notice.