Overview
The Technology Management (TMGT) program will appeal to technologists, technicians, and technical specialists who work in applied science, technology or trade fields.
The aim of the program is to expand technical professionals' knowledge, management skills and attributes for their roles as supervisors and managers in technical organizations.
The Technology Management program is designed to:
Equip technical professionals for supervisory and management positions
Augment advanced technical training within business and management parameters
Establish business and management strategies within a technical environment
Open opportunities to earn university degrees with management and operations focus
Provide practical opportunities for lifelong learning
Earn a degree without disengaging from the work place.
The program is composed of four main course clusters including 23 credits of management courses, 15 credits of advanced technology sector courses, 12 credits of Liberal Studies and a graduation project worth 15 credits.
Meet one of our grads
Success story: Sunny Ghataurah, Director of Applied Engineering Solutions and TMGT 2011 graduate.
Sunny is one of the winners selected by Business in Vancouver 2014 'Top 40 Under 40'. The award highlights BC's outstanding professionals who are under 40 and have demonstrated excellence in business and leadership within BC.
Graduating & Jobs
Job opportunities
Graduates of the program can be from a variety of industries and assume leadership roles as supervisors and managers at the junior and mid-management levels. Technologists and trades technicians may also strive for self-employment as independent contractors and consultants or sole proprietors of their own business.
Technologists, technicians and technical specialists in this degree program have their careers grounded in fields such as biomedical engineering, information technology, civil, electronics, mechanical, airport operations, aircraft maintenance, avionics and many others.
Faculty, Advisors & Staff
Terry Suen
Program Head
Bachelor of Technology
School of Transportation
Tel: 604-451-6886
Email: Terry_Suen@bcit.ca
Megan Alford
Program Administrator
Bachelor of Technology
School of Transportation
Email: malford2@bcit.ca
What's New
Congratulations to TMGT Grads of Spring 2023!
So proud to see our graduates celebrate their achievements as they cross the stage during convocation.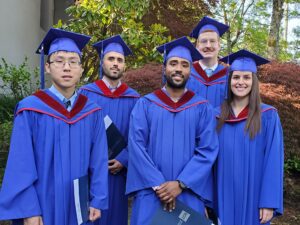 Congratulations to the recent Spring grads as they join their fellow TMGT alumni.
Special congratulations to 2023 award recipients Ian Torrance (TMGT Program Achievement Award) and Charles Vasquez (School of Transportation Dean's Award for Bachelor's Degree).
Congratulations to TMGT Grads of Winter 2023!
So proud to see some of our graduates celebrate their achievements as they crossed the stage at the March 1st Winter Convocation ceremony.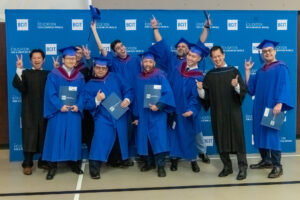 TMGT grad, Matthew Hui's inspiring valedictory address centered on three themes; gratitude, resilience and understanding. Fellow classmates can check out the ceremony and Matt's address at BCIT Winter Convocation March 1, 2023 (6:30pm) – YouTube
Congratulations to all our graduates; Ghaiman (Ray) Al-Saidi, Masoud (Matt) Asheghi, Carlos Felicio, Shila Habibifard, Jesse Hausner, Jonathan Hou, Matthew Hui, Andrew Logan, Michael Ma, Chris Matson, Andy Maurice, Craig Sexton, Patrick Snelling, Burton Stephens, Lee Vallee, Charles Vasquez, Oliver Wackenreuther, Jing (Jessie) Wang.
TMGT Grad, Sunny Jassal, featured in Drishti Magazine!
TMGT grad and BCIT Cyber Security Officer Sunny Jassal has been featured in Drishti Magazine. Learn more about Sunny's career pathway and technical experience in the following profile article, Sunny Jassal: At The Forefront of Cyber Security.
MBA Option

BCIT Bachelor of Technology Management graduates with at least four years of full-time work experience may qualify for Simon Fraser University Beedie School of Business MBA in Technology Management (MOT) Program.
The MBA MOT program is a rigorous business training designed specifically for technology professionals. The curriculum is shaped by the needs of the technology sector, for the needs of the technology sector. In this program, you will get the core business and management training you would expect from an MBA, all in the context of the tech sector. This is a 24-month, part-time program designed for working professionals. Classes are held every Monday and Thursday evenings with occasional intensive classes.
As an alumnus of the Bachelor of Technology Management degree, you may qualify for a GMAT (Graduate Management Admission Test) waiver when applying to the MBA MOT program. Alumni from the Bachelor of Technology Management degree program have continued into the MOT MBA program and have been very successful in the program and in their careers afterwards.
To find out more about the MOT MBA program or to schedule a phone advising appointment, please send your resume (or Linked In profile) and transcripts to motmba@sfu.ca.
Contact Us
Questions or comments?
Subscribe
Sign up to receive updates, invitations to events, and information about BCIT and your program.
We promise not to spam you, we won't share your personal information, and you can unsubscribe at any time.
Programs and courses are subject to change without notice.