"Educational technology represents a cornerstone of modern pedagogy,
and faculty should be supported with the training and resources to use
it effectively in a learning environment." —Polytechnic Academy Vision
BCIT's Polytechnic Academy is an integrated program of support, services, and lifelong learning opportunities for faculty. The academy provides a foundation for applied, hands-on polytechnic teaching and learning, supporting BCIT faculty to enhance their skills and expand their practice as exceptional educators.
Academy Features
Teaching specialization—advanced courses in polytechnic instructional design, offered tuition-free to BCIT faculty and staff
Scholarship of Learning and Teaching—resources and academic services that promote educational research and innovation, including Learning and Teaching Innovation Grants
E-learning championship—promotion of the latest in educational technology, remote learning, and blended learning
Open education—promotion of open resources and teaching methods that facilitate collaboration and reduce costs for students
Professional development events—Annual Learning and Teaching Summit/BCIT Professional Development Day
Polytechnic Academy Instructional Development
BCIT's Learning and Teaching Framework identifies what teaching excellence means at BCIT. Our new Polytechnic Academy courses provide a pathway for faculty to get there.
The program builds on the current Instructional Skills Workshop (POLY 1005). Subsequent courses focus on more advanced instruction and assessment strategies, education technology, and online learning. The Instructional Skills Workshop is recommended as a prerequisite but can be completed at any stage. The following chart shows the course structure for the program: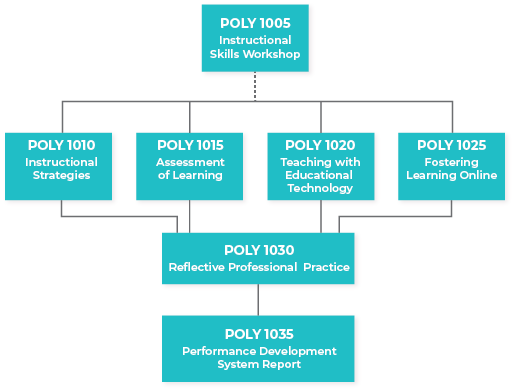 Course
Facilitator/Dates & Times
Registration link
Poly 1005 Instructional
Skills Workshop
(1.5 credits)
See Instructional Skills Workshop
(ISW) registration page
Poly 1010 Instructional
Strategies
(3 credits)
Course description
Oleg Lungu
Feb. 9–March 30, 2023
3 hrs. in-person each week (Thursdays, 5:00–8:00 pm)
Plus 2.5 hrs. online each week
(A mix of synchronous and asynchronous.
See schedule for more details).
Class schedule
REGISTRATION CLOSED
Poly 1015 Assessment
of Learning
(3 credits)
Course description
Michele Bridge
Jan. 17–March 9, 2023
3 hrs. in-person each week (Tuesdays, 5:00–8:00 pm)
Plus 2.5 hrs. online each week
(A mix of synchronous and asynchronous.
See schedule for more details).
Class schedule
REGISTRATION CLOSED
Poly 1020 Teaching with
Educational Technology
(3 credits)
Course description
Jennifer Madigan & Michele Bridge
May 6–July 1, 2023
2.5 hrs. in-person each week
(Saturdays, 9:00 am–12:00 pm)
Plus 3 hrs. online each week
(A mix of synchronous and asynchronous.
See schedule for more details).
Class schedule
Register for Poly 1020
Poly 1025 Fostering
Learning Online
(3 credits)
TBA
TBA
Poly 1030 Reflective
Professional Practice
(3 credits)
TBA
TBA
Performance
Development System
TBA
TBA