BCIT RPAS Courses
Would you like to try flying a drone?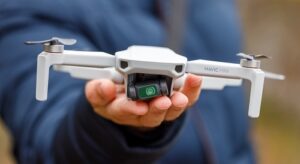 Coming soon: Try out a DJI Mavic Mini from AV Services
Our five DJI Mavic Mini RPAS (drones) will be available this spring to all approved BCIT instructors, staff, and students for a 24-hour booking.
For approval to borrow AV Services drones, you first need to learn basic safety and operational information and then pass a quiz on the Learning Hub.
You'll find the required information and quiz in the AV Services RPAS Quiz Module on the Learning Hub. (Note that the Learning Hub is only accessible to BCIT staff and students.)
Approval Process