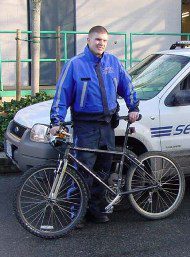 The Student Bike Patrol is in place at the Burnaby Campus. The patrol emphasizes "students helping students".
How to contact security and bike patrol
Contact Safety, Security and Emergency Management 24 hours a day, telephone 604-451-6856. When using an "in-house" service phone, dial 6856.
You can also use one of the "emergency phones" around campus, or come directly to the Security Communications Centre, which is located in SW1, Room 1016, Burnaby Campus.
Hours (evenings)
Mondays through Thursdays, 6:00 p.m.–10:00 p.m.
Fridays 5:30 p.m.–9:30 p.m., and
Saturdays 10:00 a.m.–2:00 p.m.
This service is in the evenings to promote the safety and security of part-time students.
Student job opportunity
Interested in joining the Student Bike Patrol?
Submit your resume to the Safety, Security and Emergency Management Department, attention Manager of Security.
Most patrollers work two shifts, four hours per week. The academic workload at BCIT is such that two shifts per week does not impact school commitments. The rate of pay is currently $12.71 per hour.
Successful candidates must be willing to undergo reference and security clearance procedures.
History of the student bike patrol
The Student Bike Patrol was formed in September of 1993. This initiative is a very valued part of the overall BCIT Safety, Security and Emergency Management Department personal security program. It has the support of the Student Association, the BCIT administration and the campus community.