BCIT's Emergency Response Teams are mainly volunteers made up of BCIT employees. Our team members come from all walks of life, many with varied emergency response experience and training.
There are several different Emergency Response Teams at BCIT:
The Policy Group provides high-level strategic advice and guidance to the EOC Director. BCIT's Leadership Team fills the role of the Policy Group and comprises the President, Vice-Presidents.
The Emergency Operations Centre (EOC) team is responsible for the overall management of the EOC during an emergency response. Members on this team are generally in similar roles to their daily positions. Depending on the size of the event and the level of EOC activation EOC members are mobilized as needed.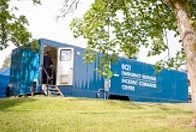 Incident Command Team is assigned to an Incident Command Centre/Incident Command Post and will coordinate the event from the site and report to the Emergency Operations Centre, Operations Section
The Light Search And Rescue (LSAR) team functions primarily include rapid damage building assessment; light search and rescue; basic first-aid; setting up of shelters and soup kitchens; and the dispensing of personal emergency kits to displaced persons.
The Animal Response Team – Burnaby Campus Only provides for the immediate care, control and safety of animals requiring refuge at a BCIT emergency pet shelter. For more information regarding pets on campus, please visit Pets on Campus.
BCIT expects convergent volunteers to show up after an emergency or disaster. Many bring a wide range of skills and training. Effectively managed, convergent volunteers can help assist BCIT's response and recovery operations. The Convergent Volunteer Management Team manages and coordinates the assignment of convergent volunteers.
There are three situations that may require the activation of the ESA Team to provide additional support to its employees and students:
A short-term shelter scenario in which employees or students are displaced from their place of work or study and need to be sheltered until either returning to work, class or being sent home;
An overnight accommodation scenario in which employees or students are unable to return to their homes due to transportation restrictions;
A resident student scenario in which students living in residence are unable to occupy their accommodation due to an emergency or disaster.
Both shelters and overnight accommodation facilities will be operated in an "austere" manner. The objective is to provide safe, secure facilities until persons can either be sent home or returned to work or class. The resources available within BCIT will limit the level of services provided to the bare minimum.
BCIT holds a Disaster Day training exercise every second year in early June. This exercise coordinates the efforts of campus emergency response teams with external first responders, including the RCMP, fire department, and emergency health services.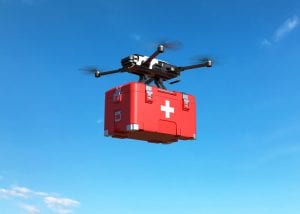 RPAS Hub members Chris Cambon and Tim Horsfall are using remotely piloted aircraft systems to add a valuable component to these training exercises. Through real-time, high-resolution aerial video and photography, RPAS can quickly capture reliable and comprehensive information on the extent of an emergency. Using additional payloads such as FLIR thermal imaging and multispectral cameras, an RPAS can also detect other serious issues such as fire hotspots or gas leaks.
To give you an idea of how the technology is used, in one exercise the team piloted a drone over a simulated boiler explosion, livestreaming the video to the main headquarters, where the fire chief watched and directed the pilots to zero in on what he needed to see. Such information is invaluable to first responders and the emergency operations centre in determining the best course of action.
The Amateur Radio Team is activated in the event of a disaster when normal lines of communication are non-functioning. Outside of an event, the team reverts to an amateur radio club. ART members are employees and students.
One of BCIT's Emergency Management Program inventory of communications tools to use in the event of a disaster/emergency, are Satellite Telephones. In times of disaster, when other communication systems are either destroyed or overloaded, satellite communications equipment can be used immediately to support relief efforts and enable vital communications. In fact satellite communications are in use every day to support relief efforts around the world but also to transmit vital communications for those who maybe in accessible areas by way of land or sea.
Satellite Communications Team members are well trained in the use and operations of the MSAT G2 units. This emergency communication system is tested monthly in unison with the South West Emergency Provincial Regional Emergency Operations Centre (SW PREOC) communications system test.
BCIT participates every month and also takes the opportunity to provide training on its emergency communications systems with current staff.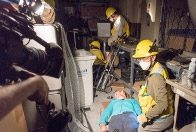 At each campus our trained and experienced First Aid attendants (level 2 or higher) join our field ERTs when they are doing search and rescue to provide treatment for casualties who need more than basic first aid. The First Aid attendants also set up triage in the event of an incident if needed.
Fire wardens are responsible for helping to ensure the safety of the BCIT community. Fire Wardens responsibilities include sweeping and evacuating their assigned areas, directing people to the nearest designated assembly area (or areas of refuge for persons with mobility impairments) and reporting to BCIT's security.
All emergency response teams receive ongoing training in many areas of emergency response including all aspects of emergency operation centre and emergency support services, light urban search and rescue (LUSAR), rapid damage building assessment, incident command system, animal response, first aid (level one) including automated external defibrillator, amateur radio, portable radio communications, scribe training and so forth. Other relevant courses are offered as needed. Cross training is encouraged.
Online fire warden training registration
Visit the link below to register online through the SSEM Storefront. Once your information has been received, between 3 – 5 business days you will be notified of the next steps of the registration process.
Most teams have identification vests with the BCIT and team logos. Depending on the team, all members are given specific equipment and supplies to enable them to complete their role.