BCIT welcomes industry partners who generously offers our students achievement awards. See below a selection of some of our Computing partners.
Please visit Student Financial Aid and Awards for a full list of awards, more information on eligibility criteria, and application deadlines.
Brenda McLaren of IUGO Mobile Entertainment, presented awards to CST students, Taryn Stickney (top) and Christofer Klassen (bottom).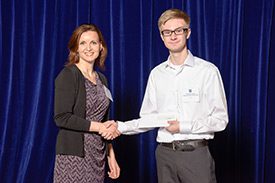 "The collaborative environment at BCIT provided me with the experience to organize and manage a team, while the specialized second year courses gave me the computer networking and security background I needed to be successful." – Jordan Thomson, Computer Systems Technology grad, VP Product Development, Fortinet
Read the complete article