Featured faculty openings
We've got a few openings in Computing Flexible Learning for local industry practitioners to teach JavaScript and React.js nights or weekends. Please see below for more information!
Interested in exploring teaching?
BCIT offers education for a complex world. Embrace the complex world and help prepare the next generation of technology leaders to explore the opportunities within it – PhD not required. At BCIT Computing you will use your experience, your training, your passion for technology, and your passion for teaching and mentoring to help our students learn to turn big challenges into new solutions.
Many kinds of opportunities
Current postings (full and part-time)
Please visit our general BCIT jobs page for all the latest listings, or contact us with any questions or suggestions.
Flexible Learning opportunities (evenings and weekends)
Computing Flexible Learning is looking for current IT industry experts who would like to teach at night and on the weekends. We have expanded in several areas. Flexible Learning instructors ideally teach tools and techniques they use in their own day job.
The following subjects may have current instructional opportunities:
If you're a local subject matter expert with a minimum of a bachelor's degree, are currently working in industry, and you'd like to explore teaching part-time, please send us your resume and a cover letter describing what you're interested in teaching.
"What I learn when I work during the day, I get to teach at night. What I learn preparing and teaching my classes, I get to use for my work. It's a mutually beneficial proposition."

Donabel Santos, Computing Flexible Learning instructor
BCIT offers full-time faculty
Generous total compensation package which includes extended health, dental benefits, and an excellent defined pension plan
Professional development: access to funding, leaves, secondments, exchanges, and other opportunities for career development
Tuition waivers for BCIT courses and opportunities to apply for fully funded Master's or PhD programs
Wellness and Employee Assistance programs, subsidized fitness facilities, a collegial environment
What's to like?
There's no better place to grow — there are so many opportunities. When you teach, you constantly learn.  I'm also told when you teach young people, you'll always feel young.  I'll find out if that's true in a few years!
Michal Aibin
Computing Faculty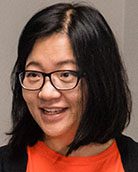 Aside from the rewards and fun that come with teaching, I appreciate having the summer off to spend with family.
Carly Orr
Computing Faculty
It makes me realize every day that the experience I have, the skills I've developed, and my passion for teaching really can make a difference.
Trevor Lord
Program Head