2020–2021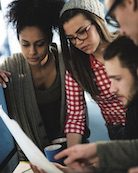 Entrance Awards recognize academic and non-academic achievements of students entering an eligible full-time BCIT program, including part-time and full-time Bachelor's degrees. The deadline for BCIT Entrance Awards is August 5 and January 6 each year.
The 2020–2021 BCIT Entrance Awards are for individuals who begin a BCIT program between April 1, 2020 and March 31, 2021.
Entrance awards selection criteria
All Entrance Awards are adjudicated on a competitive basis. Selection is based on academic standing in secondary school and/or post-secondary studies. Other factors may be taken into consideration such as participation in school activities, community involvement and demonstrated leadership qualities. Where applicable, these additional criteria are listed under the Award-specific Information section in entrance award descriptions.
BCIT president's entrance awards
BCIT President's Entrance Awards are available to students that have graduated from a BC Secondary School during the period September 2019 to June 2020. The selection of candidates is based on an evaluation of academic achievement, participation and contribution to school activities, leadership and citizenship as well as volunteer and/or community service. The BCIT President's Entrance Award can be applied to any full-time BCIT credential program.
The deadline to apply for BCIT President's Entrance Awards is August 5.
BCIT entrance awards application deadlines
BCIT Entrance Awards have two distinct deadlines that depend on when you begin your full-time studies at BCIT and the program you are registered in. The deadline for each BCIT Entrance Award is listed under each specific entrance award.
For awards with a singular August 5 deadline, applicants must commence their program between April 1, 2020 and March 31, 2021.
For awards with two deadlines, the following applies:
August 5, 2020 for programs starting between April and November 2020. 
January 6, 2021 for program starting between December 2020 to March 2021.
Additional information
An incomplete or late BCIT entrance awards application will not be considered.
Applicants are responsible for submitting documentation (a copy of their secondary school transcript, copies of transcripts from all post-secondary schools attended, translations of documents) with their entrance awards application. All transcripts and documents submitted for BCIT admission are the property of the Registrar's Office and are part of a student's official file and are not normally returned or photocopied for applicants. If you are a BCIT graduate, a copy of your BCIT transcript or an unofficial statement of marks is still required.
Applicants are responsible for ensuring all documents are received by the BCIT Student Financial Aid and Awards office by the applicable deadline date.
All BCIT entrance awards applicants are notified of decisions in writing.
Entrance awards are tenable only at BCIT and are not transferable.
Entrance awards are not deferrable and must be accepted in the year in which they are awarded.
Failure to adhere to all entrance award criteria will result in the award being revoked. At that time, you will have 30 days to repay the amount of the award.
The BCIT Student Financial Aid and Awards office is closed weekends and holidays. A deadline that falls on a day when the office is closed will be automatically extended to the next working day at 4:00 p.m.
Questions?
If you have any questions about completing your BCIT entrance awards application, please contact Student Financial Aid and Awards at 604-432-8555 or sawards@bcit.ca
Ready to apply for BCIT entrance awards?