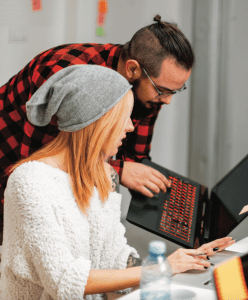 Entrance Awards recognize academic and non-academic achievements of students entering an eligible full-time BCIT program. For a full list of BCIT entrance awards and details, refer to the list of Entrance Awards and descriptions document below.
General eligibility criteria
To be eligible for a BCIT Entrance Award:
You must have applied for admission to BCIT and been assigned a BCIT ID.  You do not need to be accepted into your program.
Where applicable, you must meet the award-specific eligibility criteria outlined under the Eligible Program(s) and Award-specific Information sections in the list of BCIT Entrance Awards and descriptions.
You must be a citizen or permanent resident of Canada.
You must commence full-time studies (60% or more of a 100% course load) between May 1, 2023 and April 30, 2024.
You must remain registered as a full-time student during the academic period for which an award is given.
You must maintain satisfactory academic standing during the academic period for which an award is given.
If you are under disciplinary review or placed on a student performance contract, you may be restricted from receiving an entrance award disbursement.
Your entrance award application must be received at the Student Financial Aid and Awards office by 4:00 p.m. on the earliest deadline date of your selected entrance awards.
Selection criteria
All Entrance Awards are adjudicated on a competitive basis. Selection is based on academic standing in secondary school and/or post-secondary studies. Other factors may be taken into consideration such as participation in school activities, community involvement and demonstrated leadership qualities. Where applicable, these additional criteria are listed under the Award-specific Information section in the list of BCIT Entrance Awards.
Browse Entrance Awards
Find available entrance awards and eligibility criteria before you apply.
View list [PDF]
How to apply
You may apply for multiple entrance awards with a single application. On your application form, be sure to select all awards for which you meet the eligibility criteria and would like to apply.
Submitting applications
We are accepting the Entrance Awards Application and supporting documents by email only: sawards@bcit.ca
Application deadlines
BCIT Entrance Awards have two distinct deadlines that depend on when you begin your full-time studies at BCIT and the program you are registered in. The deadline for each BCIT Entrance Award is listed under each specific entrance award.
For awards with a singular April 15* deadline, you must commence your program between May 1, 2023 and April 30, 2024.
For awards with 2 deadlines, the following applies:
April 15, 2023* for programs starting between May and December 2023.
October 1, 2023* for program starting between January 2024 and April 2024.
*or next business day.
Terms and conditions
Please ensure you are familiar with the terms and conditions of BCIT Entrance Awards.